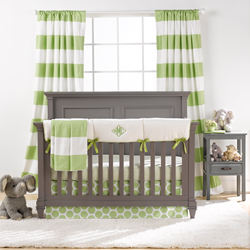 "Parents love the safety aspect of a crib rail cover, making it one of our most popular products", stated Caroline Eager, President
Louisville, KY (PRWEB) May 11, 2015
The ABC Expo, held in Las Vegas last week for independent juvenile retailers, was a great event combining both educational sessions and a trade show. Liz and Roo Fine Baby Bedding unveiled a brand new line at that show, offering retailers reasonably priced crib bedding options in six color groupings that include all crib bedding separates plus matching curtains. The crib bedding came in six color ways, including mint green, kiwi green, gray, navy, coral, and canvas. Aimed at helping retailers offer a competitively priced mix and match option, Liz and Roo included all the basics for crib bedding. The Monogram Basics program they presented allows retailers to purchase one or all six colors to display in their store. Each color grouping includes choices for crib skirts, crib rail covers, bumpers, faux fur receiving blankets, and crib sheets in 100% cotton. The new separates offer lots of opportunity for crossover among different color ways, such as mixing coral with navy. The wide cabana stripe curtain panel option is a great finishing touch in the nursery. Liz and Roo crib bedding is all made in the USA, which ensures higher quality workmanship due to the ability to work with the sewing team directly both before and during the manufacturing process.
The crib rail covers, designed for safety reasons, are tied on the crib rail, allowing air flow in the crib while serving to protect the crib rail from the affects of teething. "Monogramming has become so popular with nursery design. New parents want something with their child's name or initials in the room. The solid crib rail covers are perfect for monogramming," stated Caroline Eager, President of Liz and Roo. "In addition, parents love the safety aspect of a crib rail cover, making it one of our most popular products," stated Eager.
About Liz and Roo
Liz and Roo, a division of American Made Dorm & Home, is the premier designer, manufacturer and retailer of made in USA baby bedding and bumperless crib sets that emphasize safety, workmanship and style. A women-owned business, Liz and Roo's products can be found in more than 140 specialty baby stores and juvenile furniture shops throughout the USA and Canada. Liz and Roo was founded in 2012 and is headquartered in Louisville, Kentucky with production facilities in Sylva, North Carolina. For more information and to view Liz and Roo's complete assortment of baby bedding and accessories please visit http://lizandroo.com/.