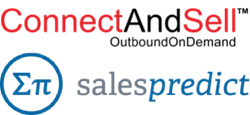 With ConnectAndSell Predict, marketers can save hundreds of thousands of dollars by only buying leads that have an acceptable score, and a high change of converting to an opportunity. Chad Burmeister, VP of Sales & Marketing, ConnectAndSell
Los Gatos, CA and Nashville, TN (PRWEB) May 12, 2015
Today, at the SiriusDecisions 2015 Summit, ConnectAndSell announced ConnectAndSell Predict, powered by SalesPredict, which enables ConnectAndSell Lightning and ConnectAndSell OutboundOnDemand customers to score and source leads that are 16x - 32x more likely to close.
ConnectAndSell Predict enables marketers to:

Score leads already purchased (marketing and sales often purchase leads that go stale because the prospects move to new companies or change jobs).
Source and score leads before they are purchased (up to 80 percent of leads that marketers purchase do not meet their ideal customer profile, and as a result, millions of dollars are wasted).
Monitor the leads sales is calling to insure they aren't wasting time and company resources pursuing companies that are not a good fit.
According to Chad Burmiester, VP of Sales & Marketing for ConnectAndSell, "Until now, sales professionals were often fed up with poor leads passed to them by marketing. With ConnectAndSell Predict, marketers can save hundreds of thousands of dollars by only buying leads that have an acceptable score, and a high chance of converting to an opportunity."
ConnectAndSell Predict can be used by ConnectAndSell Lightning customers who have deployed ConnectAndSell in-house and ConnectAndSell OutboundOnDemand customers who rely on ConnectAndSell Inside Sales Representatives to do the dialing on their behalf.
Chris Beall, CEO of ConnectAndSell said, "Prior to partnering with SalesPredict, we tested SalesPredict for our own company. As CEO, the results were enlightening—and alarming. SalesPredict showed us which leads have 16x more likelihood of resulting in an opportunity. We also learned that 43 percent of our leads were considered A Leads, and 9 percent B Leads, meaning 48 percent of our leads were probably not worth acquiring. And even more alarming, 50 percent of the A Leads had never been called."
Yaron Zakai-Or, CEO of SalesPredict, said, "We are excited to partner with ConnectAndSell and provide their customers with new insights, powered by predictive analytics. Because ConnectAndSell sees all the leads that their customers are calling, they are in a unique position to monitor the order in which the leads are called and prioritize by conversion potential, to maximize results. By combining SalesPredict with ConnectAndSell's Coaching as a Service to insure that the right message is delivered, sales conversion rates can improve by several factors."
About ConnectAndSell
ConnectAndSell delivers live conversations and business meetings on demand, using a combination of patented switching technology and virtual sales agents. On average, ConnectAndSell can deliver a live conversation with exactly the people you're trying to reach in under four minutes. This allows ConnectAndSell customers to accelerate sales growth with their current resources. In 2014 & 2015, ConnectAndSell was voted as the Top Solution Provider by the American Association of Inside Sales Professionals, and also was awarded Top 40 Marketing Tools of 2014, and in 2015, was voted as a Top 100 Always On OnCloud Top 100 Private Companies, and received a Silver and Bronze Metal for Sales and Customer Support by the Stevie Awards. Learn more about ConnectAndSell at http://www.connectandsell.com and follow @ConnectAndSell on Twitter.
About SalesPredict
Who is most likely to buy, who will buy more and who will churn? SalesPredict can tell you. Founded in early 2012, SalesPredict helps companies increase revenues by identifying who their best potential prospects really are and providing information and purchase signal insights that accelerate sales cycles and improve conversion rates. How? Predictive analytics. The company is headquartered outside Tel Aviv and has a U.S. office in San Francisco. Learn more about SalesPredict at http://www.salespredict.com and follow @SalesPredict on Twitter.