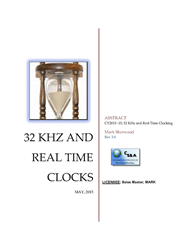 Cupertino, CA (PRWEB) May 11, 2015
CS &A LLC (Consulting Services & Associates LLC), today announced the release of its newest market report focused in Semiconductor Timing, "32 KHz and Real Time Clock IC's (RTC's)."
This second in a series of focused and limited reporting, this report provides a deep dive into both 32 KHz references and Real Time Clocks IC's (RTC's). In CY2011, CS &A LLC released the first report in this focused deep dive report series, "Semiconductor Timing Opportunities in Communications Infrastructure and Back Haul." The second release in the series is geared specifically toward Time of Day (TOD) generation and tracking.
Long considered a unique Semiconductor product category within power management under the heading of Supervisory Solutions, CS &A has, since 2005, considered TOD Timing support, i.e.: 32 KHz Frequency Reference, Oscillator Modules, and Real Time Clock IC's, as a sub category product within Semiconductor Timing, and has placed it with other IC Timing solutions under the Semiconductor Clock and Timing Reporting Segment.
This is the second year in publication for this dedicated focus piece, which was met with wide acceptance last year from both the supplier and volume consumption bases. The updated edition for 2015 provides what has been described as: "a deep dive and comprehensive look into both the 32 KHz Frequency Reference and the Real Time Clock IC and Module Markets. The report includes all of the associated and defined product sub categories: Simple Commodity, Complex Commodity, Precision, and a new Fully Integrated Solution category, which has emerged to provide a deep stack of new solutions from the cheap (nickels and dimes), to as much as USD $18+ for fully integrated, full featured, Precision class RTC Timing Solutions, complete with all the functional blocks possible (i.e.: the resonator, oscillator, DC Regulation, Oscillator calibration/compensation, frequency dividers, full featured registered sets, on board NVM OTP and Scratchpad memories), and some offerings, complete with an option to include the Power Source; i.e.: The Battery, Super Cap, and trickle charging circuits…."
Mark Sherwood, Principal Associate and CEO at CS &A LLC, says, "The report provides comprehensive coverage and details the 32 KHz Frequency Reference and Real Time Clock IC segments, that in CY2014 alone shipped more than 6 billion 32 KHz Frequency Reference Sources, plus almost 350 Million RTC IC's, that combined, generated in excess of USD $750 million WW. The market is healthy and continues to show signs of growth (1-3%) in volume, while revenues continue to fall due to pricing pressures through at least CY2019."
The report details WW TAM's, Supplier listings, product category reporting by volume, with device level ASP's by package and performance, COGS considerations, revenue roll ups, plus technology reporting, and analysis for Quartz, MEMS and Compensated CMOS based solutions in play and in development today.
It is the only standalone report and analysis for this segment of Semiconductor Timing available today, and it provides deep insights from the inside of this key industry segment. The CS &A Report is considered actionable material and provides information to help guide the reader through a complicated technology base, a mix of high and low level suppliers, a crowded channel, and key OEM's, who are consuming high volumes of these devices for specific and growth driving applications.
Sherwood said, "In CY2014, more than 6.0+ billion 32KHz Frequency References shipped. 32 KHz standalone references included in the mix are: Quartz crystals, MEMS resonators, or MEMS implemented as an Complete SMD packaged Oscillator module with closed loop calibration and a compensation loop, providing a multitude of fixed frequency timing solutions in the market today that are priced for varying levels of performance. Today, the 32 KHz Solution Mix also includes Oscillators in the form of XO, TCXO, DCTCXO, as well as the standalone resonators/crystals/CMOS. The standalone Quartz solutions remain quite dominant in both volume and share."
One new opportunity for these unique TOD Timing solutions that has emerged from the growing list of use cases/applications is entrance into the Wearable's Market, with early adopters of MEMS based frequency references like Google and Apple to name a few.... And, as it may be easy to see in this application, low power consumption, low voltage tolerance (battery based applications), small form factor, and low pricing are mission critical items needed in order to participate in the opportunity and utilize the solution.
The report has been available for shipping for May 4th. Orders are being accepted now. Pricing for an Enterprise License is set at USD $2,500.00.
To get more information about this new Report and about CS &A LLC, visit our website at http://www.timing-is-everything.net, or email us at info(at)timing-is-everything(dot)net.
About Consulting Services & Associates
Consulting Services & Associates LLC (CS &A) was founded in 2002 and is headquartered in the heart of the Silicon Valley, centrally located in Cupertino, California. CS &A is the recognized leader in semiconductor timing reporting and analysis. The firm provides unique and innovative reports and limited consulting resources specializing in: technical issue resolution, market research and analysis, product definition, project management, marketing support services, due diligence services, and strategic research and planning. If you are interested in learning more about CS &A offerings, please email us: info(at)timing-is-everything(dot)net. Reports can be purchased online at http://www.timing-is-everything.net.