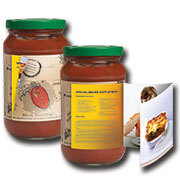 Thanks to extended content labels, enterprises can provide recipes, rebates, instructions or more to customers - and all without altering the design of their labels.
Omaha, NE (PRWEB) May 13, 2015
When designing product labels, manufacturers often find themselves torn between the need to include pertinent information and the desire to ensure packaging is aesthetically pleasing. Lancer Label has a solution to this problem that offers distributors the best of both worlds: extended content labels.
The Days of Choosing Between Details and Design Are Over
Lancer Label's extended content labels take the form of a multi-panel, full-color folded booklet laminated to a clear, permanent label. Within the booklet, product manufacturers can display product ingredient lists, QR codes, rebate details, recipes, regulatory information, warnings and more in multiple languages as required.
Extended content labels can benefit product manufacturers across many vertical markets and industries including food, beverage, household chemical, health and beauty. The labels provide the ability to include much more text without compromising label design, size or legibility.
Welcome the Summer with Extended Content Labels
"As the temperature rises and people start to think about heading out to the backyard and firing up the grill, barbecue sauce companies tend to see a significant increase in sales," noted Fred Nelson, vice president of sales at Lancer Label. "Thanks to extended content labels, these enterprises can provide mouthwatering recipes to customers - and all without altering the design of their bottle labels or cramming too much text into a small space, which can act as a turnoff for some shoppers." Manufacturers of lawn and garden products as well as health and beauty products will also benefit with updated extended content labels this summer.
Companies that may be concerned about bulkiness need not worry - the minimum folded booklet size is 1 inch by 1 inch. Moreover, businesses that are only looking for a small number of extended labels are also in luck, as Lancer Label offers quantities as low as 1,000. Get ahead of the curve with the latest custom solution from Lancer Label.
About Lancer Label
With over 50 years of experience in the label industry, Lancer Label is dedicated to providing distributors quality label solutions from a supplier they can trust. Lancer Label offers the gold standard customer experience, quality products and versatile printing capabilities all at a great value. We make selling labels easy! For more information and to place orders online, visit LancerLabel.com. For the latest news and labeling promotional offers, find Lancer Label on Facebook, LinkedIn, Twitter and Google .