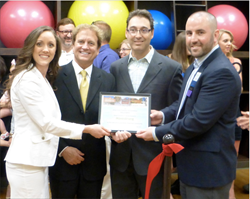 Lake Orion, Clarkston, Rochester, Michigan (PRWEB) May 10, 2015
Women's Excellence in Wellness, powered by Movestrong (WE-Movestrong), held it's official ribbon cutting on May 8 at the Lake Orion location. The Orion Area Chamber of Commerce was on hand to facilitate the ceremony along with representatives from the DeClaire LaMacchia Orthopaedic Institute, Women's Excellence and Movestrong, DeClaire Medicine for Movement.
"WE-Movestrong" represents a partnership between local physicians and fitness experts. Adrienne LeGasse Montgomery, the 27-year-old Lake Orion resident and business co-owner, opened in partnership with Jonathan Zaidan, MD of Women's Excellence and Jeffrey DeClaire, MD of the DeClaire LaMacchia Orthpaedic Institute.
Offering everything from strength training classes, weight classes, aerobics, cardio and yoga, there is a class for everybody. Beginners can breath easily too, knowing there will be basic classes to teach correct form and foundational movements. The first class is free.
For more information, visit their website, http://www.womensexcellence.com/wellness.
Women's Excellence is the most comprehensive obstetric and gynecologic office in Michigan. They also specialize in menopause, weight control, bladder control, endometriosis, robotic surgery, pelvic floor physical therapy, and midwifery services. The knowledgeable, well-trained, compassionate physicians and healthcare providers of Women's Excellence are taking new patients and are conveniently located in three locations throughout southeastern Michigan, Birmingham, Lake Orion, Clarkston and Metamora. For more information, visit http://www.womensexcellence.com.