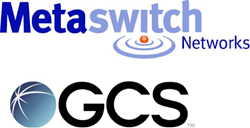 Together, GCS & Metaswitch Networks can help network operators provide high quality voice services that can be managed well, while reducing the complexity and cost of offering these services
New York, New York (PRWEB) May 12, 2015
Global Convergence Solutions, Inc (GCS), the leading provider of next-generation OSS & BSS solutions that are revolutionizing the way carriers do business with each other, today announced that Metaswitch Networks will begin reselling the GCS Dynamic Management Solution suite.
"Metaswitch provides network operators with the software network infrastructure they need to offer innovative services, including residential, business and interconnect. At GCS, we are developing and delivering solutions that help carriers maximize the utility and capabilities of that infrastructure," says Neal Axelrad, CEO of GCS. "Together, we can help network operators provide high quality voice services that can be managed well, while reducing the complexity and cost of offering these services. It's how GCS is revolutionizing the way carriers do business with each other".
"Operators, whether they are competitive interexchange carriers, peering carriers, or wholesalers that are using different ways to interconnect, are deploying Metaswitch Networks to deliver a smooth transition to next generation IP infrastructure where quality and reliability cannot be compromised," said Brandon Harper, VP Business Development and Channels at Metaswitch Networks. "By bundling GCS' solutions with our portfolio, customers can optimize their revenues and minimize their operational costs to be highly competitive in the peering marketplace."
Metaswitch has begun marketing and selling the GCS Dynamic Solution suite, including cloud-based solutions for network operators of all sizes. GCS and Metaswitch Networks will be participating in International Telecoms Week (ITW), a telecom industry trade show taking place in Chicago from May 10 to May 13.
To find out more about GCS, its partnerships, products and events, please visit: http://www.globalconverge.com.
About Global Convergence Solutions, Inc (GCS)
GCS is a leading provider of communications transaction management solutions. The company, with offices in New York & New Jersey (USA) is solving the critical challenges that both existing and emerging Communications Service Providers face. The company's customers include: Vonage, Earthlink, KDDI and dozens of International and North American Communications Service Providers. To learn more about GCS, visit their website at: http://www.globalconverge.com
About Metaswitch Networks
Metaswitch is powering the transition of communication networks into a cloud-based, software-centric, all-IP future. As the world's leading network software provider, we design, develop, deliver and support commercial and open-source software solutions for network operators and large enterprises. We are focused on delivering high-performance software that runs on commercial, off-the-shelf hardware, as appliances or in the cloud. Our IP Multimedia Applications and our IP Infrastructure solutions have been adopted by more than 1,000 customers worldwide, while our SDN portfolio is adding intelligence to white box platforms, cost-effectively virtualizing network routing and hyperscaling the data center.
For all inquiries contact: marketing(at)globalconverge(dot)com