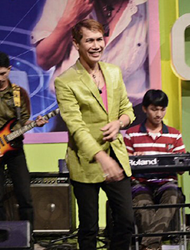 I'm delighted to have the opportunity to work with these legendary individuals in the American music community.
Los Angeles, CA (PRWEB) May 12, 2015
Much of Pacific Asia already knows Benny Simanjuntak – he's created a positive reputation over the years as a successful music promoter, talent manager, talent scout, philanthropist and mentor to recording artists and actors and international stars. Among other things, he's known for his successful T.V. show, ABU Song, which goes to Indonesian villages to discover world-class talent.
This summer, he and his Los Angeles based Sample Entertainment, will be bringing three of his discoveries to California, where he's producing recordings, music videos and movies. The three young artists are Beby Natalia, Thyatira and Beneval.
"We're very excited about the potential for introducing American music fans to the phenomenal talent we've discovered overseas while at the same time building strong partnerships with others in the industry," he said. "We have some big plans ahead."
To produce the first two songs, which will be released in June, Simanjuntak is collaborating with seasoned composer and producer, Richard Rudolph, and Adam Berg, Grammy nominated producer, composer and musician. Hip Hop record producer Terrace Martin will also be producing tracks for upcoming productions.
"I'm delighted to have the opportunity to work with these legendary individuals in the American music community," Simanjuntak said.
Simanjuntak continues to be involved in talent searches throughout Indonesia. Instead of hundreds of competitors coming to audition at a central spot, like contestants are known to do on programs like "American Idol," he prefers to scour the countryside in search of new talent, whether those people are living in a small village, a huge city or anything in between.
Once a good selection of bright individuals has been discovered, he invites them to come to Jakarta, Indonesia's capitol. Then, he invites selected entertainers to travel to Hollywood for the opportunity to work with producers like Rudolph, Berg and Martin on recording albums, and with Los Angeles production studios to film music videos and movies.
The new U.S.-based branch of Sample Entertainment will be coordinating Simanjuntak's arrival and activities in North America. It's an exciting move for Simanjuntak, who has managed talent and produced entertainment for decades. Past shows he was involved in have included everything from celebrity entertainment to talk shows to cooking.
"We are proud of the success we've had so far in Indonesia, and we are looking forward to the opportunity to expand even further and see what we can do in the U.S.," he said.