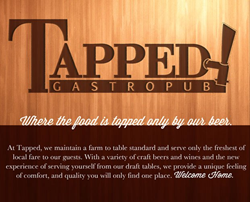 Tapped Gastropub is not the first customer to recieve a less-than-satisfactory level of support and reliability from our competitors...
Virginia Beach, Virginia (PRWEB) May 11, 2015
With Summer approaching, the great migration to coastal towns provides seasonal motivation for bars and restaurants to prepare for an influx of new customers.Tapped Gastropub is entering its third summer, but they are far from a seasonal business. The team at Tapped knows the secret to longevity in coastal towns is focusing on customers' year-round experience. That experience includes offering forty craft beers on tap, an eclectic and creative menu, and a relaxing and open environment.
The owners of this coastal gem recently invested in upgrading their self-serve beer system, after going months with no support and runaround from their original self-serve technology provider. Bill, one of the owners, commented on his negative experience: "I bought the system from an Irish Company that used to be based in the US. We paid them $900 in advance for on-site support to address our concerns, but they didn't make any travel arrangements and instead had their technician "skype" some trouble shooting assistance from Ireland, but nothing was ever fixed. When we attempted to reach them for a refund, the only way they would return our calls was if we acted like a new customer."
The owners of Tapped Gastropub were understandably nervous about entering into another relationship to rectify their self-serve beer problems. They did plenty of research and checked multiple references before choosing PourMybeer. With great reviews from their customers and international endorsements from Jon Taffer on multiple episodes of his show, Bar Rescue, they were the obvious choice. PourMyBeer has also been profiled on CNN Money and Bloomberg, which further vet them as the best choice for self-serve beer and wine systems. The owner of PourMyBeer, Josh Goodman said, "Tapped Gastropub is not the first customer to receive a less-than-satisfactory level of support and reliability from our competitors and I'm sure won't be the last. It's unfortunate that there are people and companies that don't have the same focus on customer satisfaction that our team does, but they tend to weed themselves out over time. I'm a big believer in business Karma, which is why we take such good care of our customers." The team at PourMyBeer has stood the test of time by being the market leaders in self-serve beer sales and installations since 2010.
http://www.pourmybeer.com is an Innovative Tap Solutions Company. The company was formed in 2009 and made the first commercial mobile self-serve beer tables in the US. It also sells and distributes fixed beer walls, mobile beer walls, fixed draft beer tables and mobile draft self-serve tables. All mobile equipment is made in the USA. Contact sales (at) pourmybeer (dot) com or call 267-323-1100