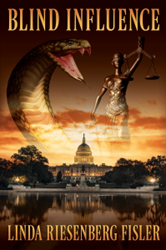 a fast-paced, high-adrenaline thriller, taking readers deep into the machinations of the powerful in one of the world's most influential cities.
MIDDLETOWN, Ohio –
(PRWEB) May 12, 2015 -- Nicole Charbonneau is beautiful and successful. Her work as a lawyer is legendary in Washington, D.C. The heroine of this new novel released by Dog Ear Publishing loves nothing more than ensuring that justice is served to the guilty. Nicole's boss, Tony Shafer, ensures she's connected to the most powerful people in the city, including shady Vice President Mark Stevens and the upstanding, powerful senator from North Carolina, Bobby Jenkins.
Her world is turned upside down, however, when she meets her best friend and coworker, Carol Gartner, for an evening at a nightclub. The night ends in blood-soaked chaos, and Nicole is swept into a plot to capture an internationally infamous assassin known only as The Serpent. MI-6 Agent Sean Adkins knows The Serpent all too well: Sean's entire family was devastated by the ruthless killer 10 years earlier, and it's been his life's work to capture the assassin ever since.
Following him across the ocean, Sean is unable to prevent the assassination of President Andrews, but he's closer than ever to stopping the killer once and for all. With the help of Nicole and and the senator, Sean sets a dangerous trap. Will The Serpent be stopped, or will he take more innocent lives? "Blind Influence" is a fast-paced, high-adrenaline thriller, taking readers deep into the machinations of the powerful in one of the world's most influential cities.
This is the first novel for author Linda Riesenberg Fisler, a former Fortune 500 consumer products manager who spends her days in pursuit of creativity; if she's not working on the next book in The Blind series, she's painting in her studio or hosting her Internet radio show, "Art Chats with Linda Fisler." "Blind Influence" is already receiving five-star ratings from readers at Amazon and Goodreads.
Linda Riesenberg Fisler is available for book signing events/tours, virtual book blog tours and interviews. Her first virtual book blog tour is schedule for May, with a Facebook release party scheduled for May 7. You may contact her via email at cincyredhead@gmail.com for information or to schedule events.
----------
For additional information, please visit http://www.lindariesenbergfisler.com
Blind Influence
Linda Riesenberg Fisler
Dog Ear Publishing
ISBN: 978-1-4575-3572-7 272 pages $12.95 US
Available at Ingram, Amazon.com, Barnes & Noble and fine bookstores everywhere.
About Dog Ear Publishing, LLC
Dog Ear Publishing offers completely customized self-publishing services for independent authors. We provide cost-effective, fast, and highly profitable services to publish and distribute independently published books. Our book publishing and distribution services reach worldwide. Dog Ear authors retain all rights and complete creative control throughout the entire self-publishing process. Self-publishing services are available globally at http://www.dogearpublishing.net and from our offices in Indianapolis.
Dog Ear Publishing – self-publishing that actually makes sense.