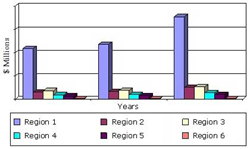 The North American market for water infrastructure repair technologies (WIRT) is expected to reach $25.0 billion by 2019
(PRWEB) May 11, 2015
Wellesley, Mass., May 11, 2015 – The North American market for water infrastructure repair technology (WIRT) is expanding rapidly as a significant number of uplifting factors propel growth and the past hurdles become smaller or disappear. BCC Research informs in its new report a few restraints to market growth are still apparent, especially within some WIRT market segments.
From 2013 to 2019, the total WIRT market in North America is projected to see a compound annual growth rate (CAGR) of 8.2%, rising from $15.6 billion in 2013 to nearly $25 billion in 2019. Total growth over the six-year period (2013 to 2019) is estimated at just over 60%.
"The WIRT market is thriving and evolving as many factors work to spur market growth," says BCC Research analyst Nana Lapham. "Some of the more prominent factors include a need for water infrastructure repair that is exponentially becoming greater; global and regional population growth; and new technologies that are gaining a track record and becoming more trusted."
Water infrastructure systems all over North America are getting old. The U.S. Environmental Protection Agency (EPA) estimates that in 2000 the average age of U.S. pipe was about 38 years; by the year 2050 the average age will have increased to more than 50 years. In Montreal, Canada, it is estimated about 33% of water distribution pipes and close to 3% of sewage pipes reached the end of their projected service lives in 2002.
Water Infrastructure Repair Technologies: The North American Market gives a comprehensive overview of the size, growth and direction of the market, including an assessment of the factors that are directing the market; technological hurdles and advances; dollar market value for 2013, 2014 and projections through 2019; company involvement; and regional overviews in order to provide insight into successful, as well as unsuccessful WIRT-related programs and trends in North America.
Editors and reporters who wish to speak with the analyst should contact Steven Cumming at steven.cumming@bccresearch.com.
About BCC Research
BCC Research publishes market research reports that make organizations worldwide more profitable with intelligence that drives smart business decisions. These reports cover today's major industrial and technology sectors, including emerging markets. For more than 40 years we've helped customers identify new market opportunities with accurate and reliable data and insight, including market sizing, forecasting, industry overviews, and identification of significant trends and key market participants. We partner with analysts who are experts in specific areas of industry and technology, providing unbiased measurements and assessments of global markets. Recently selected as the world's greatest market research company, BCC Research is a unit of Eli Global, LLC. Visit our website at http://www.bccresearch.com. Contact us: (+1) 781-489-7301 (U.S. Eastern Time), or email information@bccresearch.com.