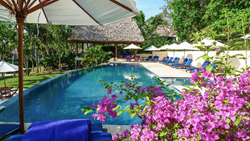 Having a wedding in Belize, surrounded by tropical flowers and the melodies of exotic birds, great weather, exquisite dining and new experiences to share, all in an atmosphere of casual luxury... that's priceless
San Ignacio, Belize (PRWEB) May 13, 2015
With September 2015 designated as Weddings and Honeymoon Month at Belize's The Lodge at Chaa Creek, now is the time to start planning an overseas celebration of love, according to Denise Duran, Chaa Creek's wedding planner.
And by booking now, couples can be assured of taking advantage of a five night, all-inclusive Belize Wedding and Honeymoon vacation package exclusive to September 2015.
"There are many reasons behind the recent popularity of destination weddings, and by planning early, a wedding in Belize can be as affordable and even more carefree than many domestic celebrations," Ms Duran said.
Ms Duran was speaking at a May 10, 2015 announcement that bookings for Chaa Creek's "Weddings and Honeymoons Month 2015" were now open.
"Anytime is a great time to be married or celebrate a honeymoon at Chaa Creek, but throughout September 2015 we're especially focussing on couples with an all-inclusive, five night wedding and honeymoon Belize vacation package that combines everything for a wonderful wedding with a full Belize vacation that represents amazing value, " she explained.
Chaa Creek has been hosting weddings and honeymoons for over 30 years, and has a dedicated "Adventure Romance" team to cater to couples, Ms Duran said.
"As Belize's reputation as a lovers paradise grew, along with interest in destination weddings, honeymoons and other romantic adventures, Chaa Creek's owners made the decision to create a fulltime team that not only caters to couples, but is encouraged to constantly be on the lookout for new activities to add to our menu of romantic vacation experiences. I don't know of another eco resort that does that," she said.
Ms Duran said that she and her team also work closely with the staff at Chaa Creek's internationally recognised Hilltop Spa when crafting Belizean weddings and honeymoons.
"We're lucky to have such a great spa right here at the Lodge," she said.
"Feeling good about yourself, and feeling good generally, really contributes to a happy, healthy wedding and honeymoon."
In addition to luxurious spa treatments such as Maya cacao-inspired chocolate wraps, private Jacuzzi and Tree Top suites are also available to enhance romance, she said.
Ms Duran and her team will also work directly with Chaa Creek's guests to create unique, personally tailored romantic holidays that cover a variety of interests.
"If a couple loves horses, for instance, we can help them add horseback rides with intimate picnics in the shade of ancient Maya temples to their holiday. There are also sunset canoe excursions, day and nighttime guided nature walks, jungle safaris in a private all terrain vehicle, romantic river jaunts on our traditional Belizean johnboat, and any number of other activities for couples to share.
"If a couple wishes to exchange vows at an ancient Maya temple surrounded by pristine rainforest, or in a beautifully manicured tropical garden with the release of gorgeous blue butterflies, or on a beach, or wherever their hearts lead them, we can arrange that," she said.
Ms Duran emphasised that Chaa Creek is experienced in organising every aspect of a wedding, from arranging legal requirements and forms, religious or secular celebrants, witnesses, floral arrangements, cakes, dinners, receptions, transfers and accommodations for the wedding party and their guests, and all other details.
"Basically, we work with couples to identify exactly what they want, make suggestions and identify opportunities and possibilities, and then pull it all together.
"By the time we pick up the happy couple and their family and friends at Belize's international airport, everything is taken care of," she said.
Ms Duran listed a number of reasons why Belize is a becoming more popular as a wedding and honeymoon destination.
"Compared to other countries, Belize is incredibly easy to be married in, as there's no need for blood tests or other tedious requirements, and the close proximity and ease of travel to and from North America makes getting here a breeze" she said.
"Since we're English speaking, and with a currency pegged two-to-one to the US Dollar, confusion is kept to a minimum, and virtually everyone comments on how friendly and warm Belizeans are.
"It's the perfect combination of the familiar with the exotic. People can enjoy a true multicultural experience abroad without the hassles and unwelcome surprises one sometimes encounters overseas.
"By the time you add up the costs for a traditional wedding back home, it's surprising how affordable our wedding and honeymoon packages are, especially considering the savings built into the special September 2015 offering.
"And having a wedding in Belize, surrounded by tropical flowers and the melodies of exotic birds, great weather, exquisite dining and new experiences to share, all in an atmosphere of casual luxury – well, that's priceless," Ms Duran said.
Ms Duran said couples should contact their travel agents, or Chaa Creek directly, soon if they wish to be assured of enjoying a Belizean wedding or honeymoon during September's Weddings and Honeymoons Month 2015.
"Be prepared to be surprised at how easy and affordable an exceptional Belizean wedding or honeymoon can be," she said.
The Lodge at Chaa Creek is a multi award winning eco resort set within a 365-acre private nature reserve along the banks of the Macal River in Belize.
ENDS