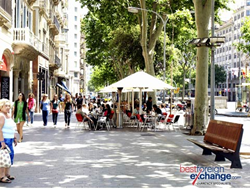 London, UK (PRWEB UK) 15 May 2015
The Government of Spain's Ministry of Industry, Energy and Tourism recently released its Tourism Expenditure Survey for March 2015, revealing record-breaking spending by international tourists. In contrast, Spanish News Today revealed in an article published on April 23rd that Visa credit card company reported stagnant to mediocre charges by tourists in Spain, suggesting forms of currency other than credit cards are rising in popularity amongst travellers. Foreign currency specialist BestForeignExchange.com offers its insight on the new findings, speculating that more tourists are opting to exchange their money for Euros to use in-country to avoid having to pay steep international charge fees applied by creditors.
According to another article published by Spanish News Today on April 29th which discussed the ministry's recent findings, spending by international tourists in Spain increased by 7%—reaching a record 10.76 billion Euro. Of that amount, a whopping €1.88 billion was spent by British travellers alone–the country that experienced a 14.8% growth from the previous quarter and that with the greatest increase amongst countries to visit Spain during Q1. BestForeignExchange.com responded to the trend, noting that the increase in visitors and spending per visitor while in-country are likely due to the recent shift towards a significantly more favourable Pound-Euro exchange rate.
In light of Spain's growth in tourism and tourist expenditures, BestForeignExchange.com heeds the significance of the shifted Pound to Euro currency exchange rate, noting the impact it has on foreign travel and purchases. In turn, it is now offering the best foreign exchange rate for the Euro to the influx of travellers who are reluctant to use credit due to international fees, oftentimes offsetting the savings that prompted the increased spending to begin with.
According to Spanish News Today's article, the number of Visa International credit card transactions declined by 6.1%, offset by a rise in average value per transaction but still only resulting in a mere 0.15% increase in tourist spending in Spain since last year's figures.
"Many travellers are aware of charges involved in using their cards and as a result more and more opted to use cash over cards when travelling abroad," stated Trevor Samuel, Senior Manager at BestForeignExchange.com.
Londoners are offered a very attractive exchange rate for the Euro thanks to its strong Sterling currency. Furthermore, BestForeignExchange.com doesn't charge a commission for its money exchange services when purchasing travel money at any of its store locations, saving travellers from unnecessary fees. Buying at the right price at the right time gives visitors the best value for their money and allows them to stay within their planned budgets.
"Despite the decrease in the number of transactions reported by card issuers, we have experienced an unprecedented demand for the Euro as well as other continental bank notes– such as the Romanian Lev, Bulgarian Lev and Czech Koruna over the Easter holiday in Spain," continued Trevor.
BestForeignExchange.com trade over 120 types of foreign bank notes, facilitating travellers to venture to any part of the world without being charged any extra fee or commission on international money transactions. Travel money can be purchased at any of their store locations based in London, or via Royal Mail using its next day delivery service. For more information, visit BestForeignExchange.com.
About Best Foreign Exchange.com:
Owned and operated by Thomas Exchange Global, BestForeignExchange.com offers the most competitive exchange rates in London and customers that reserve currencies online will be assured the same exchange rate until close of business on the particular day despite any adverse fluctuations. They stock the widest range of foreign currencies in London with over 120 types of foreign bank notes. All foreign currency buy/sell transactions are free of any commission or charges.
Thomas Exchange Global also offers International Money Transfer Service where funds can be remitted to overseas bank accounts within 1 to 2 days. With commission free service for transfers over £10,000 backed by competitive exchange rates, customers are assured of a better deal and a substantial saving compared to banks and money brokers. Thomas Exchange Global branches are located at Strand, Victoria Street, Liverpool Street, Hammersmith, Cannon Street, Richmond Embankment and Wormwood Street.