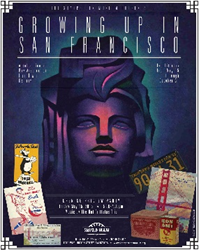 Calistoga, CA (PRWEB) May 11, 2015
Sharpsteen Museum's newest exhibit, "Growing Up in San Francisco," slated to open with a fabulous reception from 5:30-7 p.m. on Friday, May 15, is a private collection belonging to longtime museum member Irwin Herlihy.
Talking to Herlihy is always a treat as his stories of his life are endless, interesting and often comical. This collection takes visitors from his first baseball mitt (1936) through games attended at Seal and Kezar Stadiums and on to Candlestick. The programs to be displayed date back to the oldest from 1942, only 25 cents at Kezar, a game between the University of San Francisco and the US Coast Guard, a Babe Ruth Day program from August 1947 at Seal Stadium, a book of official baseball rules from 1924 and more.
Find out why Herlihy is such a Bay Area sports nut, and not just baseball. Taken to his first game by his Uncle Stanley, Herlihy was honored just last year by the 49ers as the one man to have attended the most football games in a row, his first being in 1946. By the end of the 2014 season, he had attended 651 games without missing one. There was even a 49er special last year interviewing Herlihy and his wife, Sandy, all about his love of the game.
Herlihy began collecting old tins and containers in 1969 after a visiting a friend that did the same.
"We stopped by to visit some friends in the Bay Area. They had this beautiful home, all decked out. We walked into the living room and sitting on a table was this old, ugly, crappy looking tin. I thought 'why would they build this fantastic home and then put a piece of garbage on a table?' Found out they were collectors and had been for years. After hearing their stories and piecing together the history of each can, my wife, Sandy, and I started our own collection."
Herlihy's tin collection now numbers in the hundreds, with tins dating back to the 1930s such as Betty Lou Potato Chips, Littleman Coffee, Ovaltine, Lake County Maid Milk, Uneeda Bakers, Jersey Wren Cornmeal, Fluff Cake Flour and more.
The exhibit features pieces of the original Golden Gate Bridge as well as programs and banners of past World's Fairs, old shoe shiner paraphernalia, children's books from 1940 and 1941 and much more. This is a true document of a Calistoga resident and San Francisco soul that should not be missed.
Born in 1931 and growing up just 16 blocks from the beach, Herlihy's childhood memories have created a master storyteller. Ask him what memory he most treasures about his young days growing up in San Francisco, and he will say, "The fog horns. It will always be the fog horns."
Collections of any kind always begin as a fun endeavor, then go on to become a passion, slowly progressing into a crazed obsession. Fortunately for Herlihy, and the Sharpsteen Museum, his collecting remained at fun (although he himself is a little crazed). Hundreds of items will be on display.
This exhibit promises to be the highlight of the year at the museum. Everyone is invited to the Preview Party from 5:30-7 p.m. on Friday, May 15. As always, wine and appetizers will be served, raffle prizes will be won and music will be provided by Gail Sharpsteen and the Hot Frittatas.
In other news, the annual Instant Wine Cellar event will be slightly different than in years past. The event will be from 3-6 p.m. on Saturday, Aug. 29. There will be four grand prize sponsors this year, including Castello di Amorosa, Laura Michael Winery, Far Niente Winery, and Nickel & Nickel. Each grand prize will be 36 bottles of mixed premium valley wines and will include exceptional tour and tasting packages for four people each donated by the sponsors.
This year's event will be bigger and better than ever, with more prizes, great food and the best wine available. Sharpsteen Museum is still in the planning process for this event and needs volunteers for a variety of sub-committees. Anyone who would like to be a part of this fantastic event should contact Sue Mauro or Doug Cook through the museum. Call 707-942-5911 or send a message through the contact page on the museum's website at http://www.sharpsteenmuseum.org.
About Sharpsteen Museum:
The Sharpsteen Museum's permanent exhibits are designed to present the history of the upper Napa Valley from its pre-history to post World War I with an emphasis on people and changes brought by the period of U.S. emigration and development.
In addition to its many historical exhibits, the museum uses unique and extraordinarily extensive dioramas to depict Calistoga during its period as the elegant 1860s Hot Springs resort developed by pioneer, promoter, publisher, entrepreneur and California's first millionaire, Sam Brannan. Sharpsteen Museum has special exhibits which change twice a year, every six months, and reflect the varied interests of the people of the Valley. They have ranged from antique silverware to model ships to historical musical instruments.