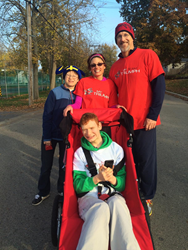 The last race we did touched me the most
Rochester, In (PRWEB) May 13, 2015
Some people race for a cure, some race for fitness, and some race for freedom...not the U.S.A. kind of freedom. The freedom of having the wind blowing in through the hair, the smell of the outdoors, the brow sweat and simply the feeling of going fast. Thanks to the non-profit organization myTEAM TRIUMPH, kids with challenges/disabilities can feel that kind of freedom.
This Northern Indiana athletic ride-along program is created for children, teens, adults and veterans with disabilities who would normally not be able to experience endurance events such as triathlons or road races. AlignLife of Rochester's Dr. Polly Irwin has experienced the benefits of myTEAM TRIUMPH first hand with her son Jacob.
"The last race we did touched me the most," Irwin said. "This was the first time my husband Jeff and I didn't take turns pushing Jacob and two people I've never met before gave up their Saturday morning to push my son. That was powerful." It was also Jacob that brought Irwin back to chiropractic. When the Irwin family decided to do a fundraiser for a guardian dog, a local newspaper did an article explaining the project which was selling goats milk soap from an Indiana based company. At the time of the article, Irwin was focusing on her family and was not practicing chiropractic. Dr. Mark Heal read the article and called Irwin to offer help.
"It was easy," Heal said. "I am a chiropractor; she is a chiropractor. It was a no-brainer for me to help in whatever way I could. So our office started selling the soap to help their fundraiser. That started the relationship that has now brought Dr. Polly back to chiropractic and, even better, to us."
Irwin, who is seeing patients two and a half days a week is excited about the changes this has brought to her life. "When people ask me why I went back into practice I explain that I realized I'm not the answer to all my kids' needs. This gives me the chance to do what I love and it gives them a chance to spread their wings."
To help Team Triumph experience that "winged feeling" of freedom, contact the Northern Indiana Chapter at http://www.myteamtriumph.org.
Or contact Dr. Polly at the AlignLife Rochester Location at AlignLifeRochester.com .