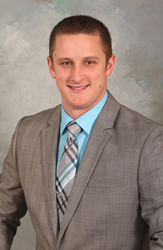 Okemos, Mich. (PRWEB) May 11, 2015
The Delta Dental Foundation recently honored Benjamin Underwood, DDS of Canton, Michigan, with its prestigious Student Leadership Award. Underwood is a 2015 graduate of the University of Detroit Mercy (UDM) School of Dentistry.
Underwood was selected for the award based on his leadership skills in the professional dental community, dedication to community service and scholastic achievement. While at UDM, Underwood has held several leadership positions, including class officer and vice president, as well as Student Government officer. In addition, Underwood served as Student Government vice president in his third year and is currently serving as the Student Government president.
Underwood is also an active member and has previously served in officer positions for the American Dental Student Association (ASDA) UDM Chapter. He has represented UDM at state and national levels at the ASDA conferences, Michigan Dental Association meetings, Leadership retreats, and State and National Lobby Days.
Furthermore, he is heavily involved in community service, including providing dental care to individuals with physical disabilities at Bay Cliff Health Camp and participating in volunteer events such as Give Kids a Smile.
Since 2001, the Delta Dental Foundation has granted an annual Student Leadership Award to at least one senior dental student from the University of Detroit Mercy and four other dental schools in Michigan, Ohio, and Indiana, including Case Western Reserve University, The Ohio State University, Indiana University and the University of Michigan. Additionally, the Delta Dental Foundation has provided eight scholarships per school, or 40 in total, to undergraduate dental students each year.
About Delta Dental Foundation
The Delta Dental Foundation is a nonprofit, charitable organization established in 1980, which serves as the philanthropic arm of Delta Dental of Michigan, Ohio, Indiana, and North Carolina. The Foundation's goals are to support education and research for the advancement of dental science, and to promote the oral health of the public through education and service activities, particularly for those with special needs. For more information, visit http://www.deltadentalmi.com/ddf.
###