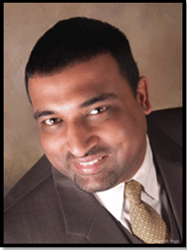 Scotch Plains, NJ (PRWEB) May 18, 2015
NJ Top Dentist, Dr. Rajdeep S. Randhawa of Innovative Dentistry, is now offering VELscope® Vx Enhanced Oral Cancer Screening to his patients! This technology was developed by British Columbia Cancer Agency and MD Anderson Cancer Center in Houston, backed by over $50 million in research funded by NIH. Currently, the VELscope® Vx is the best weapon in early detection of oral cancer (the sixth most common cancer). The demand for oral cancer screening continues to increase as patients are becoming more and more aware of the risks and realities of oral cancer. Forty-three-thousand Americans and four thousand Canadians will be diagnosed with oral or pharyngeal cancer this year resulting in 9000 deaths. That's one person every hour. During the month of April, Dr. Randhawa joined efforts with the Oral Cancer Foundation as a part of Oral Cancer Awareness Month to offer complimentary Oral Cancer Screenings to residents and businesses of Colts Neck and Rahway,NJ.
Oral health screening is the most efficient way to detect any mucosal abnormalities or any unhealthy tissue. Issues not caught by the naked eye will be caught with VELscope®. This non-invasive technology has been put to use for over twenty-five million examinations by more than twelve-thousand dental practitioners in twenty-three countries. In addition, this technology is backed by more clinical studies than any other adjunctive device for tissue fluorescence visualization, making VELscope® Vx the number one screening product for dentists and their patients.
Dr. Rajdeep Randhawa has been practicing dentistry since 1988 and is a graduate of New York University College of Dentistry. He strives to introduce new and innovative techniques and technology in the office by availing new opportunities in continuing education. Our motivation is to provide patients with the high standard of care that they deserve. Dr. Randhawa practices comprehensive dentistry where he customizes treatment plans and options to your personal needs and priorities. His goal is to give you the best smile you have ever had. Patient comfort is our highest priority. Dr. Randhawa brings dentistry to you in a simplified and unique way, with understanding and patience.
From routine cleanings and fillings to Smile Design and Extreme Makeovers, Innovative Dentistry is equipped to handle all of their patients' dental needs. For more information visit http://www.innovativedds.com/
Below are links to some of the services that the practice offers:
Cosmetic Bonding including chairside/in office veneers
Cosmetic Reshaping and Contouring of teeth
Crowns and Bridges metal free/nickel free/gold lined
Full Mouth Reconstruction with crowns, bridges and veneers
Cosmetic Fillings including composites and porcelain inlays/onlays
Implant Restoration
DaVinci Smile Makeover
As seen on ABC's "Extreme Makeover" and Fox Network "The Swan"
In Office Teeth Whitening
Perio Protect ®
Snap-On Smiles ®
Sealants
Root Canal Therapy
Extractions excluding complicated wisdom teeth that are referred to oral Surgeon
Scaling and Root Planing
Premium Dentures
Cosmetic Dentistry-Member of Academy of Cosmetic Dentistry
Invisalign ®
daVinci VENEERS
Smile Makeover with Veneers
Smile Design
In Office Tooth Whitening
Lumineers ® Veneers
VELSCOPE ®Vx Oral Cancer Screening
IMTEC Mini-Implants
Dr. Rajdeep S. Randhawa is conveniently located in two locations:
415 Route 34, Suite#102,Colts Neck, New Jersey,07722. To learn more about Dr. Randhawa and his practice, please follow the link below:
http://www.njtopdocs.com/drrandhawa2
546 St. Georges Ave, Suite# 3,Rahway, New Jersey,07065.To learn more about Dr. Randhawa and his practice, please follow the link below:
http://www.njtopdocs.com/DrRandhawa
About Us
NJ Top Docs is a comprehensive information resource of Top Doctors, Dentists and Hospitals. We are profiling over 900 Healthcare Providers and have made it convenient for you to find them.
NJ Top Docs allows patients to "meet" these providers online before making their appointment.
For more information, visit http://www.NJTopDentists.com
You can also follow us on Facebook – Twitter – YouTube