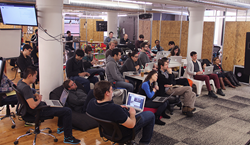 What if we found someone who wants to take programming it to the most beneficial extreme? What would they do with it? Would it work?
Boston, Massachusetts (PRWEB) May 12, 2015
Launch Academy, Inc. has announced a scholarship contest for those who want to really affect a major social concern through programming. It allows one winner with an impactful idea to attend the programming bootcamp for free. The winner will travel to Boston and learn from Launch Academy in an intense 10-week training program. On completion, they will have all the fundamentals they need to program their idea.
Cofounder Evan Charles says, "Launch Academy teaches students to achieve their goals through development. What if we found someone who wants to take programming it to the most beneficial extreme? What would they do with it? Would it work?"
Along with the traditional application process, applicants also submit a 500 - 2,000 word essay detailing a major social concern and outlining a practical way to solve it through programming. After going through the interview process, those accepted will be considered for the scholarship. The winner earns a full scholarship and will be published and promoted by the company. Students must be accepted and have their essay completed by June 5, 2015 to be eligible.
Rules & Scholarship Information
Full rules and information: http://blog.launchacademy.com/blog/launch-academy-scholarship-recode/
About Bootcamps
There is a lack of web developers in the world. 1,200,000 web development jobs will be open within the next decade, with only 400,000 estimated developers available. This means a high demand & salaries for web developers. At the same time, the cost of a college degree has increased 12 fold since 1978, four times faster than the consumer price index. This disparity has created the opportunity for the rise of the bootcamp model.
Bootcamps like Launch Academy have a fairly simple proposition, cut out all the fat of traditional education and get to the sweet, sweet marrow. Students dedicate a few weeks on their own, learning the basics of programming. They then attend a very intense educational experience for about 10 weeks. Most bootcamps help students get placed, matching them with companies that are hungry for web developers.
Development-based bootcamps are seeing sharp growth patterns. The industry grew by 175% in 2014, going from 2,178 students in 2013 to an estimated 5,987. The industry is quickly catching up to the 48,000 students / year who go through a traditional education model.
Launch Academy

96% of graduates as of Winter 2014 have gotten programming jobs.
$63,000 average starting salary.
10 week, immersion program.
Began in Summer 2013.
Over 200 students have graduated from the program.
###