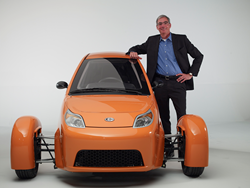 We are honored to be part of the brightest minds in science and technology, who in large part provide our window into the future.
Troy, MI (PRWEB) May 11, 2015
Elio Motors will provide an eye-opening look into their aerodynamically styled, American-made vehicle that will get up to 84 MPG and sell for an expected $6,800. The Elio vehicle will be on display May 16-17 as a part of Smithsonian magazine's Future is Here Festival; a four-day event highlighting some of the most advanced thinking in science, technology and engineering from an array of experts, visionaries and noted science-lovers.
"We are honored to be part of the brightest minds in science and technology, who in large part provide our window into the future," said Paul Elio, CEO and Founder of Elio Motors. "We believe our vehicle is the future of ultra-high-mileage, low cost commuter transportation that can make an immediate impact on both our environment and US manufacturing."
The Elio's high mileage and innovative low cost design make it the perfect commuter vehicle for those consumers who still need the occasional functionality of a pick-up truck, sport utility vehicle or minivan, but are looking for an affordable, fuel efficient vehicle for their solo driving. The company sees the Elio as an "And" vehicle – It's ultra low cost allows consumers to own both a larger vehicle for towing or large capacity seating, but use the Elio as the commuter workhorse and solo trips.
"According to the U.S. Census Bureau, 76.3 percent of all commuters drive solo to work every morning," said Elio. "That means most Americans drive four empty seats to work every day in gas guzzling vehicles. The Elio is a solution that can make an immediate impact on the environment and lessen our dependence on foreign oil."
Elio Motors is dedicated to creating American jobs and boosting US Manufacturing. The Elio factory will employ 1,500 workers alone, plus the vehicle is engineered to use more than 90 percent North American content, creating another 1,500 jobs at its supplier partner companies. These manufacturing jobs will in turn create approximately 18,000 indirect jobs across the country.
"The best workers in the world are American and its time to bring back auto manufacturing in our country," said Elio.
The Elio is already a huge hit with consumers, to date Elio Motors has taken more than 42,000 reservations for a spot in line.
"Elio Motors offers a glimpse into the future of transportation, with cutting edge technology designed to decrease our dependency on fossil fuels and preserve our environment" said Stephen Giannetti, Chief Revenue Officer of Smithsonian Enterprises. "We are proud to have Elio Motors on display at The Future Is Here Festival this year."
Elio Motors recently unveiled its brand new 0.9 liter, 3-cylinder engine prototype and will manufacture the vehicle at a former General Motors facility in Shreveport, Louisiana that made vehicles such as the Hummer H3 and Chevy Colorado. Elio Motors estimates production in the first half of 2016.
About Elio Motors
Founded by car enthusiast Paul Elio in 2008, Elio Motors Inc. represents a revolutionary approach to manufacturing an ultra-high-mileage vehicle. The three-wheeled Elio is engineered to attain a highway mileage rating of up to 84 mpg while providing the comfort of amenities such as power windows, power door lock and air conditioning, accompanied by the safety of multiple air bags and an aerodynamic, enclosed vehicle body. Elio's first manufacturing site will be in Shreveport, La. For more information, visit http://www.eliomotors.com or http://www.facebook.com/ElioMotors.
About Smithsonian Media
Smithsonian Media comprises of its flagship publication, Smithsonian magazine, as well as Air & Space, Smithsonian Books, and the Smithsonian Media Digital Network. In addition, Smithsonian Media overseas the Smithsonian Institution's minority interest in the Smithsonian Channel, a joint venture between the Smithsonian Institution and CBS/Showtime. Smithsonian Media is a division of Smithsonian Enterprises, the revenue-generating business unit of the Smithsonian Institution. The Smithsonian Institution is the world's largest museum and research complex consisting of 19 museums and galleries, the National Zoological Park and nine research facilities. Approximately 30 million people from around the world visit the museums annually.