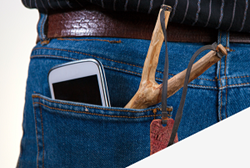 Coventry (PRWEB UK) 12 May 2015
Attendees will hear from Jason Sharpe, MD of SharpeBusiness and former senior exec at First Direct, Vodafone and OVO Energy, on how brands need to think differently, challenge conventions and embrace innovation when it comes to their Customer Engagement strategies.
Attendees will learn how this approach can achieve response rates in excess of 35%, reduce complaints and churn by 25%, increase NPS by 70 points and Customer Satisfaction by 8%; all while reducing costs, driving revenue and improving Employee Engagement.
Jason Sharpe, former senior exec from OVO Energy, says: "As a result of Rant & Rave we have acknowledged the need to listen to what our customers are saying. We've always stood by the motto 'make decisions as though the customer is in the room' but it wasn't until we started to receive the customer feedback that we truly started to live by that motto; this was the result of Rant & Rave driving a huge change."
The Webinar will explore how real-time Customer Engagement can:

Prevent complaints and turn Ranters into Ravers
Gamify the Frontline employee experience
Transform your employee engagement by inspiring and empowering them
Create a balanced scorecard to measure customer health
Respect customers and treat them fairly
Dennis Fois, CEO of Rant & Rave says: "There's no denying the impact that real-time Customer Engagement has on business performance, but there are still brands out there that aren't taking advantage of this. This Webinar should help Senior Executives to look at their Customer Experience in a different way and start thinking outside the box. It's shaping up to be a really informative and thought-provoking debate."
Attendees will be asked to share their questions/thoughts prior to the Webinar in order to make the session as interactive as possible.
To register to take part in the live Webinar or to receive a recording after it has aired, visit the Rant & Rave website.
About Rant & Rave:
Rant & Rave (formerly known as Rapide) was launched in 2000 by Nigel Shanahan and is one of the UK's leading Customer Engagement specialists, counting half of the FTSE as clients.
Its multi-channel solutions let brands proactively communicate with and gather fast feedback from their customers to manage and measure their Customer Experience.
By providing solutions which are customer, not brand centric, Rant & Rave helps its clients to transform Ranters into Ravers and turn happy customers into lifelong advocates.
Find out more about Rant & Rave: http://www.rantandrave.com