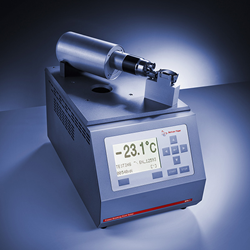 BPA 5 can measure the exact point at which the first crack appears.
St Albans, UK (PRWEB UK) 13 May 2015
Breaking point analysis is the determination of the point that bitumen could become brittle in use. As temperatures drop all materials lose their flexibility and become more inclined to break rather than deflect. A brittle bitumen binder could lead to road or pavement failure during periods of low temperature.
The Fraass method of determining breaking point flexes a thin film of sample in a temperature controlled environment. Gradually lowering the temperature, measuring the point at which the first crack appears.
Traditional methods rely on the operator to detect the crack formation, either by hearing or visually. To reach the low temperatures required for the Fraass test, CO2 is commonly used. In a busy lab it can be difficult to hear the crack form, condensation from the CO2 also makes it difficult to see once the test is underway.
Now available as an Anton Paar product, the BPA 5 does not have these disadvantages. Peltier based cooling technology dispenses with the handling and storage issues raised by using CO2. The crack point is detected automatically. These features free up the time for lab staff and ensure reliable and repeatable results.
BPA 5 is suitable for Fraass measurements according to EN 12593, IP 80 and JIS K2207.