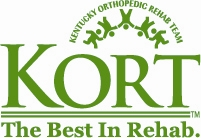 Evidence shows that a few visits to a physical therapist for hands on manual physical therapy and a more individualized home exercise program can improve your pain and disability faster and cheaper
Louisville, KY (PRWEB) May 12, 2015
Anyone who has ever been to the doctor with a painful joint has likely come away with an "It's just old age," diagnosis, despite the fact that one joint aging faster than another seems a little odd. However, this is a common experience for many with painful joint arthritis including knee osteoarthritis.
Knee osteoarthritis (OA), along with its closely related sibling hip OA, is considered to be one of the most serious musculoskeletal disorders in public health, and one of the biggest causes of disability in adults, says KORT Physical Therapist and Clinic Director, Dr. Chad Garvey, PT, DPT, OCS, FAAOMPT.
According to the Agency for Healthcare Research and Quality, more than 600,000 knee replacements are performed each year in the United States at a cost of more than $40 billion dollars. For those diagnosed with knee OA, this can be a scary proposition, however there is hope, says Garvey.
New research published in 2013 by Osteoarthritis and Cartilage showed that not only can knee OA be managed in a large number of people, improvement can be seen in a short number of treatments resulting in a sizable cost savings for the patient.
Diagnosing Knee Osteoarthritis
Patient should display 3 or more of the following:

complaints of stiffness that lasts < 30 min
joint noise (crepitus)
over 50 years of age
bone tenderness
bone enlargement
no joint warmth
"Many times physician prescribe medications and give general advice such as lose weight and reduce high impact activities; and sometimes a home exercise program is given. However, evidence shows that a few visits to a physical therapist for hands on manual physical therapy and a more individualized home exercise program can improve your pain and disability faster and cheaper," said Garvey.
According to Garvey this was recently quantified in New Zealand where those who received a combination of manual therapy and exercise, compared to usual care, resulted in over $40,000 yearly cost savings for society.
"The next time you're told by your physician that your knee pain is just due to old age, consider consulting your physical therapist for help. We can provide a low cost, fast, effective, and safe treatment program that works," said Garvey.
At KORT physical therapy, the clinical practice is based upon providing patients with the best evidence-based interventions tailored to each patient so that the best outcome is produced with the least amount of cost. If you have questions or would like to schedule a complimentary consultation to help assess your condition, visit http://www.kort.com or call 1-800-645 KORT (5678).
Most health insurance plans now allow patients to seek physical therapy treatment directly without a physician referral.
For over 27 years, Kentucky Orthopedic Rehab Team (KORT) has been the specialist in outpatient physical and occupational therapy in Kentucky and Southern Indiana. Local ownership and independent operations, allow our therapists to work one-on-one with patients helping them to regain strength, increase flexibility, improve mobility, and reduce pain without medication or surgery. Selected as a "Best Places to Work in Kentucky" for 11 consecutive years, and with over 40 locations, KORT has the most board certified Orthopedic Specialists and Vestibular Rehabilitation specialists of any other provider in the Commonwealth. KORT's certified athletic trainers provide services to more than 30 high schools and colleges making us the largest sports medicine provider in the region. KORT has improved more lives by providing compassionate care to more people, in more communities, and in more locations than any other outpatient physical or occupational therapy provider in the state of Kentucky. Through our years of commitment to the physicians and patients of Kentuckiana: KORT is Time Tested and is Most Trusted.