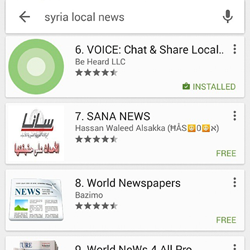 Our top priority is keeping the content relevant to the users, and to us that means constantly perfecting the 'Here and Now' experience.
Greenville, SC (PRWEB) June 01, 2015
The past two months have been exciting for the small start-up team behind VOICE. The app, which had been in open beta from October 2014 to mid-March, has seen 100,000 downloads of its Android version since going live on the Play Store. Over that time VOICE broke into the Top 100 Social Apps in 41 different countries, notably #15 in Vietnam, #33 in Venezuela and #37 in China.
VOICE is a location-based content sharing app where users are NOT anonymous but have very simple profiles. The content itself is ephemeral, disappearing as new content is shared in the area. The app features a content map and a split content feed: a 'Social' feed shows a user everything their friends are sharing wherever they may be, and a 'Local' feed shows all content shared in the user's vicinity. The map lets users see where content was shared from and filter what content they see in their feed. VOICE has already seen a wide range of uses from promoting local events, dating, college campus gossip, to even being used heavily as a real-time local news platform in regions like Syria.
"The past two months have been great for us," says Ryan DeMattia, VOICE founder and CTO, "and we've tested a lot of different user acquisition strategies in different places. Now we know what works best and we'll be applying those insights to build a strong US user base and to market our iOS app too."
While the active user base is only a portion of total downloads the team is claiming some very promising usage figures - 72% of active users access the app every 6 hours or less.
The management team behind VOICE has been growing as well, adding two new advisors in 2015 to help grow the app and scale the business around it. Phil Yanov of Greenville, SC joins the team bringing Southeast regional connections to professional networking organizations, technology forums and venture funding to VOICE. Phil is the founder of Tech After 5 and the GSA Technology Council. Jason Cohen of New York, NY brings expertise in marketing and user acquisition to the team.
The VOICE team will continue to expand, with the team planning to "hire additional expertise, expand core experience features, and build a commercial aspect" of the mobile app in 2015. "Our top priority is keeping the content on our platform relevant to our users -- and to us that means perfecting the 'Here and Now' experience."