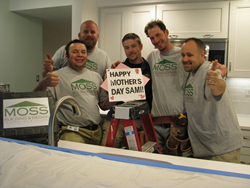 It's such the heartbeat of our family.
Chantilly, VA (PRWEB) May 14, 2015
Moss Building & Design, an award winning contractor located in Chantilly, VA, completed a surprise kitchen remodel for the mother of TODAY Show co-host of the "Kathie Lee and Hoda" show, Hoda Kotb.
The reveal aired on Friday, May 8th on the TODAY Show when Hoda Kotb shared that this kitchen remodel had been a dream of hers to complete for her mother, Sami Kotb.
The project involved renovating the kitchen condo in a week's span while Sami stayed in New York City with Hoda. Though the quick timeline was a concern, MOSS took on the challenge with their turn-key approach and had their team working around the clock to make the renovation possible. Lowe's provided the design and materials.
The work involved demoing the entire kitchen and removing a 6' section of wall between the kitchen and living room. New cabinets, countertops, backsplash, kitchen appliances and lighting were installed as well as 3 auto open cabinets.
After 8 straight days with 12+ hours of work each day, the renovation was complete and ready to be revealed.
On April 24th, MOSS and Lowe's representatives were there to welcome Hoda and her mom, Sami in the newly-remodeled kitchen. The NBC filming crew recorded Sami's reaction for the Mother's Day segment that aired on the TODAY Show.
MOSS was so happy to deliver this new kitchen to both Sami and Hoda especially because of the special meaning it holds for the both of them. "That place is such the center," Hoda said about the kitchen. "It's such the heartbeat of our family."
MOSS is a family-centered company and what made this remodel more special was the bond between mother and daughter and the opportunity to create a space that holds so much meaning for the family.
To view the segment, you can visit The TODAY Show website and view the time-lapse video of MOSS completing the work.
About Moss Building & Design and Moss Home Services:
Moss Building & Design and Moss Home Services is an award-winning, remodeling and home services company located in Chantilly, Virginia. Since 2001, they have established a reputation for excellence in remodeling additions, kitchens, bathrooms, basements and home services throughout Northern Virginia. Their customers see them as a trusted partner and MOSS is very proud of their exceptional 70% repeat customer and referral rates. Moss Building & Design has won consumer awards like Angie's List Super Service awards the last five years and has an A+ rating from the Better Business Bureau as well as many industry building and design awards.