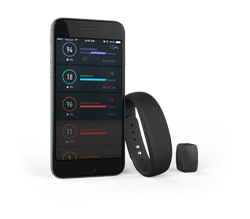 "We believe digital health interventions like this can eventually become a core component of every physician's practice."
SALT LAKE CITY, UT and MOUNTAIN VIEW, CA (PRWEB) May 12, 2015
Today, Alliance Health, LLC and Amiigo, Inc. announced the two companies are partnering to utilize Amiigo wearable and mobile technologies and Alliance Health's patient engagement platform to improve health outcomes through innovation in the management of chronic disease.
The partnership leverages Alliance Health's social networking platform for patients with chronic conditions, and Amiigo's wearable devices, which utilize nine sensors across the company's wristband, shoe device and mobile app to continuously monitor daily activities while intermittently monitoring multiple physiologic parameters.
Data collected using Amiigo devices will be merged with self-reported data gathered through the Alliance Health platform and shared with care teams and health coaches in an effort to improve outcomes and reduce the cost of treatment.
"Patients and providers are seeking new ways to use digital health technologies to manage chronic and complex conditions," said Geoff Swindle, chief strategy officer at Alliance Health. "This collaboration strengthens our ability to measure and amplify the combined impact of actionable data and social support."
The companies are collaborating with academic researchers and health practitioners to develop the pilot phase of the program, which will include approximately 300 patients who are considered at-risk for one or more cardiovascular events.
"Remote patient monitoring and social engagement could have a profound impact on patient outcomes but are largely absent from current clinical practice" said Dr. Steve Steinhubl, a cardiologist and the director of digital medicine at Scripps Clinic in San Diego. "We believe digital health interventions like this can eventually become a core component of every physician's practice." Dr. Steinhubl and Scripps TSI are supporting Amiigo in other clinical research initiatives.
Alliance Health owns and operates more than 25 condition-specific social networks, which collectively garner more than six million unique visitors each month. Patients use the sites to connect with other patients and learn about new products, services and treatment options for managing complex and chronic conditions. The company's flagship site, Diabetic Connect, is among the most popular social networks worldwide for people with diabetes. Roughly 80% of diabetes patients are known to have hypertension, a key risk factor for stroke and heart disease.
"We're excited to work with Alliance Health and other clinical investigators to identify new ways to engage with patients who could benefit greatly from wearable devices designed to help them track and improve their health," said Abe Carter, Amiigo co-founder and CEO. "We see this as the beginning of a long-term collaboration to leverage our combined strengths to assist patients suffering from chronic health conditions."
About Alliance Health
Alliance Health is an innovative technology company whose mission is to improve health outcomes, lower costs and foster a more consumer-centric healthcare industry. We own and operate the internet's largest group of condition-specific social communities serving over 1.5 million registered members across a broad set of chronic health conditions. Each site leverages social and mobile elements to empower patients and caregivers with connections to supportive peers, personalized information, and relevant products and services. We also offer access to affordable prescription medications, either home-delivered, or through our pharmacy network.
About Amiigo
Amiigo is a wearable technology company focused on long-term health monitoring. Amiigo has developed a diverse technology platform designed to collect and store contextual health data enabling users to better understand the effects of lifestyle habits and healthcare treatment. Using Amiigo's multi-device framework users can objectively track complex activities, sleep and physiologic parameters such as resting heart rate, heart rate variability and respiratory rate. Amiigo is currently participating in clinical research to demonstrate the prognostic utility of it's devices, algorithms and monitoring platform.