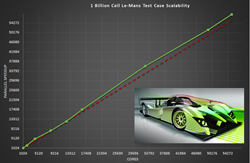 In under a year, this project has allowed STAR-CCM+ to effectively run, and scale, on over 50,000 cores.
New York and London. May 13, 2015 (PRWEB UK) 13 May 2015
CD-adapco, the largest privately held CFD-focused provider of Computer Aided Engineering software, announced today a new standard in performance and scalability for industrial CFD software. Working in partnership with High Performance Computing Center Stuttgart (HLRS) and SICOS BW, STAR-CCM+® was run on the entirety of the 1.045 PetaFlop Hermit cluster, managing to maintain perfect scalability beyond 55,000 cores.
The work was completed as part of the ongoing multi-year project to benchmark, profile and ensure optimal STAR-CCM+ performance and scalability on petascale computing systems. A number of different benchmark cases were run, ranging in size from 500 million to 2 billion cells, all generated automatically using parallel meshing technology and without the need to split the geometry into multiple blocks.
"The ability to perform simulations with such massive core counts is a real breakthrough for the CAE industry, and a direct result of our close collaboration with HLRS," said CD-adapco Senior VP of Product Management, Jean-Claude Ercolanelli. "In under a year, this project has allowed STAR-CCM+ to effectively run, and scale, on over 50,000 cores. That is very encouraging, and I am excited to see what other breakthroughs we can make. "The results allow STAR-CCM+ users to gain maximum utility from all of the computing resources that are available to them."
"These results are a fitting send-off for Hermit which now goes into retirement," added Dr. Uwe Küster, Head of Numerical Methods & Libraries of HLRS. "We have shown that the use of petascale machines for building and solving industrial CFD problems is a realistic proposition. I'm encouraged that through this ongoing collaborative project we will allow industry to push their simulation capabilities even further."
About High Performance Computing Center Stuttgart (HLRS)
The High Performance Computing Center Stuttgart (HLRS) of the University of Stuttgart supports researchers from Germany and Europe as well as industry with leading-edge supercomputing technology. http://www.hlrs.de/
About SICOS BW GmbH
Sicos BW GmbH main task is to support SMEs in their access to numerical simulation and high performance computing. The company informs, advises and acts as a broker cross-industry on the application of the most modern and powerful computers and storage systems for product development. http://www.sicos-bw.de
About CD-adapco
CD-adapco (http://www.cd-adapco.com) is the world's largest independent CFD focused CAE provider. Our core products are the technology-leading simulation packages, STAR-CCM+ and STAR-CD. The scope of our activities, however, extends well beyond CFD software development to encompass a wide range of CAE engineering services in fluid dynamics, heat transfer and structural engineering. Our ongoing mission is to "inspire innovation and reduce costs through the application of engineering simulation software and services."
A privately owned company, CD-adapco has maintained 15% organic year-on-year growth over the last 5 years. CD-adapco employs 900 talented individuals, working at 40 different offices across the globe.