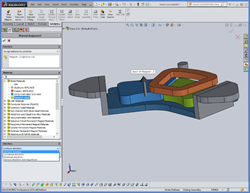 We are committed to our clients and delivering the design and analysis solutions they need
Montreal, Quebec (PRWEB) May 13, 2015
Infolytica Corporation announces today the release of their latest MagNet for SOLIDWORKS update, the company's electromagnetic field simulation add-in to the 3D CAD package. This update includes improvements made to the interface, post-processing and speed of the software.
MagNet for SOLIDWORKS is an embedded 3D electromagnetic field solver developed by Infolytica Corporation which is based on their standalone MagNet 2D/3D software. The simulation and analysis of any electromagnetic device can be performed completely within the SOLIDWORKS environment using this embedded version, making it simpler than ever to setup such complex design problems. This includes a wide range of applications such as transformers, sensors, MRI, actuators, solenoids and more.
In this new release, changes have been made to the user interface for both material modeling and post-processing. It is easier to set the direction of magnetization and material type for the electromagnetic analysis. In addition, users can set their desired point of origin in the model for reference when viewing charts and quantities available after a simulation is complete in order to view results in a relatable manner for their application.
A new level of efficiency: speed ups have been made to the model setup, visualizations, transparency modeling and loading of large results data. This update also includes the continuous work with each release to make the accurate static, AC and transient 3D electromagnetic field simulations within SOLIDWORKS more efficient. All of these changes result in an even faster and reliable add-in.
"We are committed to our clients and delivering the design and analysis solutions they need" said Chad Ghalamzan, Marketing Manager for Infolytica Corporation. "That's why we offer free trial evaluations of our software to anyone interested in seeing the full set of features and results that MagNet for SOLIDWORKS has to offer them".
Pricing and Availability
MagNet for SOLIDWORKS is now available for Microsoft Windows 7 or 8. For information about the full list of improvements, request a demo, quote or full feature evaluation, please contact an Infolytica Corporation representative nearest you.
About Infolytica Corporation
Infolytica Corporation, an official Solution Partner of Dassault Systèmes SolidWorks Corp., has offered state-of-the-art design software for electromagnetic and electric field simulations since 1978. Engineers from a wide range of industries trust our software to understand and predict the performance of their device in applications such as electric machines, sensors and non-destructive testing (NDT), induction heating, MRI, shielding, power transformers and much more.
Subscribe to our RSS feed to ensure you receive all the latest news from Infolytica Corporation