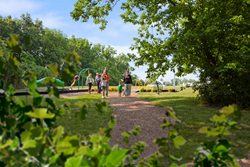 Fort Payne, Alabama (PRWEB) May 17, 2015
GameTime, a leading manufacturer of outdoor fitness equipment and nature-inspired commercial playground products, is an exhibitor this week at the International Trails Symposium in Portland, Oregon. The four day event is sponsored by American Trails and is held every two years to bring together trail and greenway advocates, managers, planners, builders, and users, as well as tourism and business interests.
GameTime is a long-standing supporter and exhibitor at the conference and will be sharing best-practice guidelines with attendees on integrating manufactured play and fitness products in a natural setting. The exhibit will feature GTfit fitness products that transform a trail or walkway into an outdoor fitness park for adults of all ages and abilities.
In addition, GameTime will present Play Trails, an innovative approach to integrating nature-themed pockets of play along a trail or greenway. Combined with educational signage that helps children and families learn about various animals and their habitats, it's a comprehensive recreational education solution that reconnects families with trails. Play Trails, and the companion design guide, Pathways for Play, was developed in partnership with PlayCore, the Natural Learning Initiative at NC State University and American Trails. American Trails' advisory board included trail experts from a variety of disciplines and provided keen insights for Play Trail typologies and their integration with the natural environment. American Trails members can take advantage of special discount pricing through the GameTime affinity program, and GameTime makes a donation to American Trails when purchases are made using this program.
GameTime will also provide information about how communities can make their trails or greenways a National Demonstration Site for Outdoor Adult Fitness or Play Trails.
Visitors to the GameTime booth can enter to win a Dero Bicycle Fix It Station - a durable and useful amenity that allows cyclists to make bike repairs along the trail.
About the International Trails Symposium
American Trails sponsors the International Trails Symposium every two years to bring together trail and greenway advocates, managers, planners, builders, and users, as well as tourism and business interests. The Symposium is the premier opportunity for the worldwide trails community to come together to communicate and experience an inspirational and educational conference.
About GameTime
GameTime is a leading manufacturer of commercial playgrounds, custom play spaces and outdoor fitness equipment. Headquartered in Fort Payne, Alabama, and with distribution around the world, GameTime has been dedicated to enriching childhood through play since our founding in 1929. Our products combine play research with thoughtful design to create playgrounds for children of all abilities. We bring together the right corporate, civic and nonprofit partners to build healthy, active communities that make the world a better place for children and families.