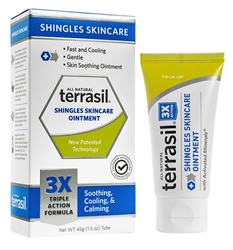 Woonsocket, RI (PRWEB) May 12, 2015
Aidance Scientific has just introduced a revolutionary, non-prescription skin soothing ointment for individuals with shingles*. Terrasil™ Shingles Skincare ointment is a Triple Action formula that is now available exclusively at Walgreen's stores across the United States.
Fast-acting and gentle, the ointment is specifically designed to cool and calm highly sensitive skin. This is important news for the one million Americans suffering with the painful viral skin infection. Terrasil's innovative Triple Action formula blends powerful, all-natural ingredients with patented Activated Minerals™ for superior results. Jojoba oil soothes and softens skin, as peppermint oil acts as a cooling and cleansing agent. Beeswax nourishes and moisturizes, while bentonite minerals (volcanic clay) absorb impurities that may harm the skin.
Terrasil is safe for all ages and skin types.
For more than a decade, Aidance Scientific has helped customers worldwide with its all-natural, therapeutic Terrasil. The company offers targeted, FDA-registered ointments for itch, rashes, wounds, warts and more.
Aidance appreciates the urgent need for premium products for shingles sufferers, as the Centers for Disease Control and Prevention (CDC) estimates one in three people will develop shingles in their lifetime. Terrasil answers this need as Walgreen's only over-the-counter shingles product. It is safe, affordable, easy-to-apply, and highly accessible.
About Aidance Scientific
Aidance Scientific is a Rhode Island-based company that provides natural, therapeutic skincare solutions to physicians and customers in more than 150 countries. The company's research of all-natural skin treatments spans 10 years and has yielded remarkable discoveries; most notably, Activated Minerals™ (multiple international patents issued and pending). Aidance prides itself on offering products that are based on proven science and actual customer success. For more information on Terrasil Shingles Skincare, contact Aidance Scientific at 401-432-7750 or visit http://www.ShinglesSkincare.com.
*Shingles impacts more than 1 million people in the U.S. each year, according to the CDC, which also recommends Zostavax - a one-time vaccine that can significantly reduce the risk of shingles, for those over the age of 60. Walgreen's pharmacies and Healthcare Clinics nationwide offer shingles vaccinations daily with no appointment necessary.