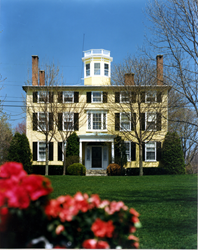 Yankee Magazine is the quintessential source of insider information about New England. Thus, we are extremely proud to have been selected for this honor by the editors of Yankee.
Kennebunkport, Maine (PRWEB) May 13, 2015
For 39 years, this Travel Guide to New England: Special Issue has been a bestselling guide for where to go & what to do in the six-state region.
Captain Lord Mansion is a top rated Kennebunkport bed and breakfast that has been recognized in Yankee Magazine's May/June 2015 Travel Guide as a "Best of New England — Editors' Choice 2015." The special issue, available on newsstands now and online at yankeemagazine.com/best-of-new-england beginning on May 4th, features 324 "Best of New England — Editors' Choice 2015" winners, which include the region's best attractions, food & dining, lodging, and bargains. A comprehensive guide to travel in the region it includes 90 local foodie destinations, the best summer bargains, and 120 of the best fairs, festivals and events around New England.
"Yankee Magazine is the quintessential source of insider information about New England. Thus, we are extremely proud to have been selected for this honor by the editors of Yankee," said Rick Litchfield, owner of the Captain Lord Mansion.
"Our annual special Travel Guide section, 'Best of New England,' is filled with treasures for travelers throughout New England," says Mel Allen, editor of Yankee Magazine. "New England is where we live, and we all have our own personal 'best' places. We're joined by our state experts a team of writers who know their local turf through and through (Hilary Nagle, Maine; Annie Graves, New Hampshire; William Scheller, Vermont; David Lyon and Patricia Harris, Massachusetts; Kara Baskin, Boston; Kim Knox Beckius, Connecticut and Rhode Island). Their ability to find the local secrets, little-known gems, and classic places that have stood the test of time make this section an invaluable guide for anyone wanting to roam about the region."
In the "Best of New England— Editors' Choice" section (page 101) Yankee reveals this year's winners. Listings are sorted by state and category. Recipients range from free concerts, to bargain finds and luxury stays, but all are noteworthy and memorable destinations. Yankee tells readers where to find the "Best Hidden Lobster Shack" in Maine, the "Best Bike Trail" in New Hampshire, the "Best Free Concert Series" in Vermont, the "Best Affordable Waterfront Dining" in Boston, the "Best Affordable Antiques" in Connecticut, the "Best Clam Cakes" in Rhode Island, and many more.
Just in time for spring and summer vacation planning, a suite of multi-media coverage from Yankee Magazine is showing off Captain Lord Mansion on a variety of platforms including the free "Best of New England" app available for download available in the iTunes or Google Play stores. A complete list of winners will be published by state at yankeemagazine.com beginning on Monday, May 5th. See the below schedule for online publication information:
Week of 5/4
Best of Maine
Spotlight: Mount Desert Island
Best of Quebec
Best of NY
Week of 5/11
Best of New Hampshire
Spotlight: Seacoast
Week of 5/18
Best of Vermont
Spotlight: Lake Champlain
Week of 5/25
Best of Massachusetts & Boston
Spotlight: Boston Attractions
Week of 6/1
Best of Connecticut
Spotlight: Gold Coast
Week of 6/8
Best of Rhode Island
Spotlight: Narragansett Bay
About Yankee Magazine: Yankee Magazine was founded in 1935 and is based in Dublin, New Hampshire. It is the only magazine devoted to New England through its coverage of travel, home, food, and feature stories. With a total circulation nearly 300,000 and total audience to 1.8 million, it is published by Yankee Publishing Incorporated (YPI), a family-owned, independent magazine publisher. YPI also owns the nation's oldest continuously produced periodical, The Old Farmer's Almanac, and McLean
About Captain Lord Mansion:
The Captain Lord Mansion is a luxury Kennebunkport Bed and Breakfast offering 20 Rooms available year round. Each room features an oversize bed, a gas fireplace and private luxurious baths. All bathrooms have thirsty towels as well as heated marble or tile floors, and many baths have two person jetted tubs or hydro-massage showers. All guestrooms feature fine linens, quality mattresses, comfortable seating areas as well as original paintings. The inns grounds are beautifully landscaped with many flower beds, statuary and a waterfall. They offer complimentary bicycles & snowshoes for guest use. Their meticulous attention to guest room details, their well-trained staff, and genuine warmth and hospitality provide an exceptional romantic escape. Their philosophy, experience and hard work has helped them earn a #1 rating in TripAdvisor.
Yankee Magazine Media Contact: Kate Hathaway Weeks, katew(at)yankeepub(dot)com