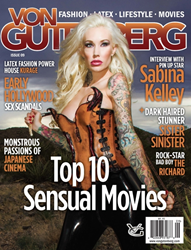 It was truly amazing putting this issue together, the highlight was shooting Sabina Kelley in Las Vegas - one of the most artistic milestones of my career. - Erik VG
New York, NY (PRWEB) May 13, 2015
The brand new issue #9 of Von Gutenberg Magazine flashes "Fashion" "Latex" "Lifestyle" "Movies" above stunning superstar cover girl and pin-up model Sabina Kelley. The most chock-full offering from the V. G. brand yet, this new issue features high-end alternative couture, articles about film and fashion, fiction, global designers, photo essays and reporting…all of which Von Gutenberg has made its reputation on now for the past 6 years.
Sister Sinister from Sweden and The Richard, horror movie actor/producer from Montreal, are featured models, as is Ella Kros, who was shot in her home of Israel, and modern day geisha Hibiki from Japan. With movies as the theme of issue 9, fans and fashionistas alike can enjoy reading the "Top 10 Sensual Movies Of All Time" by Ralph Greco, as well as "Sex & Scandals in Hollywood" by M. Christian, and V.G.'s always fascinating Midori piece, this one about Japanese Cinema. Up-and-coming latex fashion powerhouse KURAGE is one of the many designers featured as well as Von Gutenberg regular Inner Sanctum and new comer to the Von Gutenberg pages, Patrice Catanzaro.
"V.G. number nine represents all the hard work, the long range vision and the very best of what Von Gutenberg has always been about…all brought together in one grand issue. With every publication we attempt to push for the very best representation of latex couture from a global perspective and this time shooting models in so many different locations, grabbing photo essays from high couture fashion designers around the world, the crack-jack reporting on our usual lifestyle events, music and art and this issue's theme being about movies especially, I can't remember having had a better time putting an issue together." said Erik Vongutenberg
Covergirl Sabina Kelley pretty much reiterates the same sentiment shooting for Von Gutenberg #9: see here. https://youtu.be/eV3ezeJvCos
Supporting a couture shop, an interactive social network, and consistent weekly updates across its news portal, Von Gutenberg has been recognized as the first name in high couture latex branding and alternative lifestyle concerns. Any new issue of Von Gutenberg Magazine marks another step forward, a chance for the world to once again experience resplendent one-of-a-kind visuals and enjoy fiction, essays and reporting in both print and digital form.
Be sure to grab the very best issue yet of Von Gutenberg, #9 available here:
https://itunes.apple.com/us/app/id559950917?mt=8
https://play.google.com/store/apps/details?id=com.vongutenberg.vongutenberg
http://www.amazon.com/s/ref=nb_sb_noss_1?url=search-alias%3Dmobile-apps&field-keywords=von+gutenberg