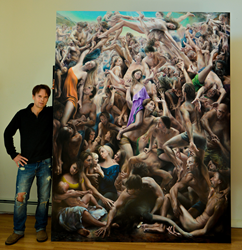 Drama Magnifico' is a painting that comes along once in a generation and is the most important piece of American contemporary realism of the 21st century
New York, NY (PRWEB) May 12, 2015
Despite spending more than 4,000 hours and three years painting and staring at 'Drama Magnifico' in his narrow home studio, artist James Van Fossan isn't entirely sure how many figures are in the piece.
"Somewhere around 150," James said. "It's meant to represent a throng of people- thousands."
Without any hyperbole, James' most recent work is hard to look away from. "Drama Magnifico" is reminiscent of traditional master figure paintings from the Renaissance. An enormous and daunting canvas, the piece towers at eight and a half feet tall and six and a half feet wide.
That was the point, James said.
The Van Fossans hosted a private viewing at their home studio back in January:
"After such a long time of keeping this painting a secret and than finally getting such astute and heartfelt reactions from everyone was so inspiring to me," James said. "It's been said, "never underestimate the wisdom and intelligence of your audience" and this was one of my key motivations while creating this painting. A friend said she felt like crying as she studied it. I believe she feels the tears I often shed while I created it. That is the ultimate reaction to me."
To see the monumental painting yourself, "Drama Magnifico" will be on display May 14-20 at the Great Jones Space in New York City. The exhibit is hosted by Jerry's Artarama. There will be a five minute long musical piece accompanying the display of the painting written by Van Fossan himself. The muscial score will guide the viewers both visually and emotionally through the story of the piece. The seven day event takes place from May 14-20 from 10am-9pm at 9 Great Jones Street, New York City, 10012.
"Drama Magnifico' is a painting that comes along once in a generation and is the most important piece of American contemporary realism of the 21st century," said David Goldstein, the chief operating officer of Jerry's Artarama. "The painting takes the viewer on the journey of the human condition from the very lowest ebbs to the very zenith of our journey. It is a painting to be studied by everyone as it is so perceptive of the drama in our lives."
The Van Fossans entered "Drama Magnifico" in the Art Renewal Center's 2014-2015 International ARC Salon, the largest online international art salon for contemporary realism art. James' painting 'Magnum Opus' won the chairman's choice award two years ago in the competition.
This debut could be the only chance for many to view it before it goes up for auction. Beginning at the New York show, silent bids starting at $350,000 will be considered. Although for James, the ultimate goal would be to have the piece hang somewhere where many people could see it.
"A museum would be the dream," Leigh Ann Van Fossan, the painter's wife and representative said. "Like the European Museum of Modern Art in Barcelona; or George Lucas is opening a narrative art museum in Chicago in a few years. We're trying to be open with the possibilities."
JA Pop-up Gallery and Jerry's Artarama will present the painting as part of the sponsored art show entitled "Realism in the Raw". The event will be held at 9 Great Jones Street #2, NYC, 10012. The Show will be open to the public May 15 – 20 from 10am – 9pm. An opening reception will be held May 14 from 6pm – 10pm. A public reception will be held May 16 from 6pm – 10pm. All works in the exhibition will be available for sale.
NEW MEDIA CONTENT:
JA Pop-up gallery Facebook Page:
https://www.facebook.com/JApop.upGallery
JA Pop-up Gallery Website:
http://www.japop-upgallery.com/
ABOUT JA POP-UP GALLERY:
JA Pop-up Gallery was founded to provide artists opportunities to showcase their work through high-end gallery exhibitions.
ABOUT JERRY'S ARTARAMA:
Jerry's Artarama was founded in 1968 when Jerry Goldstein opened his own art supplies and materials store in Long Island, N.Y., introducing discount pricing to budding and established artists. Jerry believed in treating customers like family, a tradition that still continues. Today, Jerry's offers more than 70,000 top-quality art materials at direct savings – as much as 75 percent off traditional retail on products from the industry's top art manufacturers, as well as Jerry's own exclusive product lines via an online retail store, art supply catalog, and Jerry's Artarama Superstores. In addition, Jerry's Artarama serves as an artist resource by providing instructional workshops; new art supply demos; and special art-related events, including the Art of the Carolinas Tradeshow, an annual event held in Raleigh, N.C., Jerry's Artarama's corporate headquarters. For additional information, please visit http://www.jerrysartarama.com.