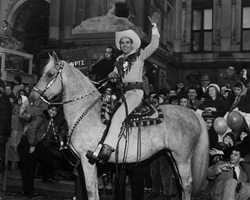 Beverly, Massachusetts (PRWEB) May 12, 2015
Kaminski Auctions is pleased to present a special collection from the estate of Rex Trailer, beloved cowboy, recording artist, and star of the popular WBZ-TV children's show Boomtown.
Growing up in Texas, Rex Trailer learned his cowboy skills from ranch workers on his grandfather's ranch. Rex learned trick riding, rope tricks, bullwhips, and marksmanship.
Answering a casting call for a cowboy to host a new kid's show, Rex landed the job as the host of the Oky Doky Ranch in New York City and later moved to Westinghouse owned WPTZ in Philadelphia where Rex was the host of three shows, "High Noon with Rex Trailer," "Riding the Trail," and "Rex Trailer's Ranch House."
Westinghouse WPTZ moved Rex to their Boston station WBZ-TV. On April 28, 1956, "Rex Trailer's Boomtown" premiered. The show was an instant success. Every Saturday and Sunday morning "Boomtown" was on the air live for three hours offering entertainment, educational games, films, cartoons, and outdoor adventure.
Rex brought the American West to life for kids in Boston while introducing them to music, science, history, and personal and public safety. The show included sidekicks, Pablo, Cactus Pete, and Sergeant Billy.
After a 20 year run on Boston television with "Boomtown" Rex went on to host "Earth Lab," a nationally syndicated science show for kids and teens. In 1977 Rex began teaching on-camera performance and television production at Emerson College and continued until the end of his life.
Items in the sale include a vast array of Boomtown props and memorabilia, and Rex's cowboy costumes, boots, hats, and jackets. The top lot of the collection is a hand tooled leather parade saddle with sterling silver mounts worn by Goldrush on Boomtown, and for special appearances. It is valued conservatively at $6,500-$8,500.
Rex Trailer's 1997 Gibson SJ-200 flat top acoustic guitar is on offer and estimated at $2,500-$3,500. The guitar is a natural color, with a maple body and tooled leather strap, serial number S/N 91197047, included is the original hard shell case.
There is a selection of the outfits Rex wore on the show including cowhide and fringed yoked leather jackets and pants, his favorite cowboy hats and boots and his engraved stainless steel spurs.
The Rex Trailer Collection is the first session of the auction and the day will proceed with the May Estate sale featuring an important landscape by Eugene Galien-Laloue of a river scene at dusk. Also on offer is a selection of glass, carpets, bronze sculptures, and a collection of decorative art and furnishings from a Florida estate, as well as a number of military items, including medals, swords, a civil war period saddle and colonial era powder horn. A nineteenth-century Russian kvosch is the star lot of the silver category, and a ladies' platinum and diamond watch is the highlight of the jewelry selection.
Preview for this exciting sale begins on Thursday, May 28th and runs through Saturday, May 30th 10:00am-5:00pm and at 8:00 am on Sunday, May 31st day of sale. For more information go to http://www.kaminskiauctions.com and sign up to bid online with KaminskiLIVE.