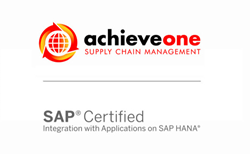 "The ability of Achieve One to inter-operate with SAP Business One powered by SAP HANA reinforces our commitment to developing high quality and innovative business applications that are highly beneficial to our customers,"said Timothy Singleton CEO
Port Jefferson, NY (PRWEB) May 12, 2015
Achieve IT Solutions, Inc. today announced its Achieve One 6.5 solution has earned SAP-certified integration with the SAP Business One® application running on the SAP HANA® platform. For companies using SAP Business One 9.0 running on SAP HANA, the Achieve One solution provides a comprehensive suite of integrated supply chain management applications that help streamline their warehouse and logistics operations, optimize their inventory and increase customer service levels.
The SAP® Integration and Certification Center (SAP ICC) has certified that Achieve One 6.5 interoperates with SAP Business One 9.0 running on SAP HANA. Over 20 Achieve One modules were tested and passed the functional and technical test case scenarios to earn the classification of having SAP-certified integration with SAP Business One on SAP HANA.
"We are delighted to announce that our Achieve One 6.5 has certified integration with SAP Business One running on SAP HANA," said Timothy Singleton, CEO of Achieve IT Solutions. "The ability of Achieve One to inter-operate with SAP Business One powered by SAP HANA reinforces our commitment to developing high quality and innovative business applications that are highly beneficial to our current and future customers."
Achieve IT Solutions will be demonstrating Achieve One 6.5 with SAP Business One running on SAP HANA at the upcoming SAP Business One Innovation Summit 2015 being held in Miami in June, as well as the 2015 ASUG SAP Business One Summit being held in Austin, Texas, in late August.
###
About Achieve IT Solutions
Achieve IT Solutions has been implementing and developing supply chain management software since 1989. We offer a wide range of implementation and support services for the SAP Business One® application, SAP Lumira® software and the SAP HANA® platform. Named by CIO Review Magazine as one of the 100 Most Promising SAP Solution Providers 2015, we are the developers of Achieve One, an application that has SAP-certified integration with SAP Business One and enhances and extends the features of SAP Business One.
With a rapidly growing network of Achieve One Partners, along with offices in the United States and Asia, we provide end-to-end ERP solutions and implementation services that include pre-sales consulting, business analysis, data conversion, software configuration, programming, training, support and remote education. For more information, visit http://www.achieveits.com.
###
SAP, SAP Business One, SAP HANA, SAP Lumira and other SAP products and services mentioned herein as well as their respective logos are trademarks or registered trademarks of SAP SE (or an SAP affiliate company) in Germany and other countries. See http://www.sap.com/corporate-en/legal/copyright/index.epx for additional trademark information and notices. All other product and service names mentioned are the trademarks of their respective companies.