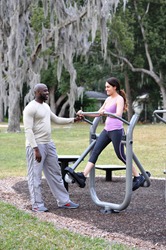 Outdoor fitness provides a convenient and cost effective way of incorporating physical activity into an individual's lifestyle. –Sheri Wiley, Marion County Board of County Commissioners
Chattanooga, TN (PRWEB) May 19, 2015
UltraSite, a division of PlayCore is proud to announce that "Health Happens" Outdoor Fitness Area and Walking Trail, designed by Marion County McPherson Complex, Marion County, FL, followed best practice guidelines in their outdoor fitness park design and has been recognized as a National Demonstration Site.
Marion County and their Wellness Team had a vision of providing an outdoor program to improve the overall quality of life of their community. Implementing an outdoor fitness park was the perfect solution.
"The Wellness Team researched equipment that would provide maximum health benefits and exercise options for individuals at various levels of fitness capability. The goal was to provide an area that would be beneficial to all individuals that chose to use it." –Sheri Wiley, Marion County Board of County Commissioners
The park, which features a 1.75 mile walking trail, incorporates 12 outdoor fitness pieces that meet the health benefits of a well-rounded workout: Aerobic, Muscle Strength, Balance and Core. By incorporating outdoor fitness products that meet these elements of fitness, they showed leadership in the industry and qualify as a National Demonstration Site. Being recognized as a National Demonstration Site sends a strong message to the community that they are committed to the health and well-being of their residents.The park received a National Demonstration Site plaque that will be displayed in outdoor fitness area.
"Outdoor fitness provides a convenient and cost effective way of incorporating physical activity into an individual's lifestyle." –Wiley
About PlayCore
PlayCore helps build stronger communities around the world by advancing play through research, education, and partnerships. The company infuses this learning into its complete family of brands. PlayCore combines best in class planning and education programs with the most comprehensive array of recreation products available to create play solutions that match the unique needs of the each community they serve. Learn more at http://www.playcore.com
About UltraSite
UltraSite™ a PlayCore company, has been manufacturing high-quality commercial grade outdoor recreation products including a variety of Site Furnishings