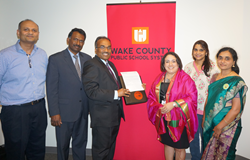 2nd most spoken ancient Indian language Telugu with 2000+ years of history is now a World language at Wake County School District in North Carolina!
(PRWEB) May 12, 2015
SiliconAndhra ManaBadi, world's largest non-profit initiative to teach Telugu, the second most spoken ancient Indian language, accomplished another huge milestone. After getting the world language recognition at the Fremont Unified School District in September last year, the SiliconAndhra ManaBadi team worked tirelessly for the past 9 months to accomplish the Foreign Language Credit recognition in Wake County School district in North Carolina.
ManaBadi Dean Raju Chamarthi, Regional Coordinator Amar Solasa, Director of ManaBadi for Foreign Language Credits Sridevi Ganti, Vice President of ManaBadi Curriculum Santhi Kuchibhotla, North Carolina ManaBadi team Himaja Nanduri and Subbarao Meduri led this initiative. The Wake County School District Board representative Delynda Ramirez-Carter presented the approval letter, marking a major accomplishment for the team. Wake County is the 16th largest school district in the country with 171 schools (104 elementary, 33 middle and 27 high schools) under its supervision.
SiliconAndhra ManaBadi is the only Telugu language school in the world to have received this recognition, now in two school districts. SiliconAndhra ManaBadi thanks Wake County School District leadership Delynda Ramirez-Carter and her staff for giving the opportunity to serve and to provide a framework to heritage and non-heritage families' to learn Telugu.
This is a dream come true for 1000+ volunteers across the world and a strong team of leaders like Deenababu Kondubhatla, Danji Thotapalli, Sarath Veta, Bhaskar Rayavaram, Venu Oruganti, Sriram Kotni, Sneha Vedula, Kalyani Siddhartha, Rama Kakulavarapu, Anil Annam, Nag Yenagandla and Phanimadhav Kasturi, who worked tirelessly on this mission.
SiliconAndhra ManaBadi Dean Raju Chamarthi said, "This is the second recognition we have received for our curriculum and several other school districts across USA are reviewing our applications to recognize ManaBadi curriculum in the near future."
SiliconAndhra ManaBadi is the world's largest non-profit Telugu Language school with more than 4300 students. For the past 8 years ManaBadi Telugu classes are taught all across U.S in 35 states and in 14 countries outside of U.S.
See more at: http://www.siliconandhra.org/manabadi.