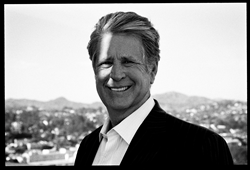 New Brunswick, NJ (PRWEB) May 12, 2015
State Theatre will honor Piscataway resident Warren R. Zimmerman with an Exemplary Leadership Award at the 2015 State Theatre Benefit Gala on Saturday, May 16, 2015, featuring Beach Boy founder Brian Wilson in concert. Zimmerman served on the State Theatre's Board of the Trustees for seven years, as Chairman from 2010-14, and more recently as the State Theatre's Interim President & CEO.
"I am honored to receive this award. It has been a pleasure serving on the Board and as Chairman, and as Interim President & CEO," said Zimmerman. "The State Theatre is and will always be a very important part of my life."
During his Chairman years from 2010-14, Zimmerman, worked closely with the State Theatre's two past Presidents. Recently he served as the State Theatre's Interim President & CEO. While in the position of Interim President & CEO, Zimmerman was charged with leading the staff and helping sustain the growth and momentum of the organization while planning for future initiatives.
With Zimmerman as Chairman, the State Theatre balanced their budget every year, had a record breaking year for ticket revenue for the 2013-14 season, and ranked the #1 theater in NJ by the trade magazine Pollstar for tickets sold for 2012, 2013, and 2014.
"We are proud to honor Warren at this year's Benefit Gala," said Douglas M. Garback, Sr, State Theatre Chairman. "Under his dynamic leadership, the State Theatre has thrived."
At the time of his election to Chairman, Zimmerman was the Assistant Vice President of IT at Chubb & Son Insurance. Prior to his work with Chubb, Zimmerman founded his own IT firm which did an initial public offering in 1993 and he ran as CEO for nine years. Zimmerman spent over 30 years in the IT industry at the executive level working for Rutgers University, CitiBank International, First Investors Corp, Pfizer, Johnson & Johnson, and Chubb & Son.
Gala Information
The Gala festivities begin at 5pm at The Heldrich Hotel and the performance will begin at 6pm. In addition to the concert, Gala guests will enjoy a reception, dinner with reserved seating, open bar, dancing, and live entertainment. The Benefit Gala, the State Theatre's biggest annual event, underwrites the State Theatre's artistically acclaimed programming and nationally recognized education programs. A portion of each ticket price represents a tax-deductible contribution to the State Theatre. Concert tickets range from $55-$150. For concert only tickets, call 732-246-SHOW (7469). Benefit Gala tickets are $700. For Benefit Gala tickets please call 732-247-7200, ext. 543.
The State Theatre's 2015 Corporate Honoree award will go to Investors Bank and the Patron Honoree award will be presented to Sharon and Lou Cyktor.
The 2015 Benefit Gala Co-Chairs are Brent (TCNJ) and Susan Podlogar (Johnson & Johnson, State Theatre Trustee) with support from Vice-Chairs Scott Fergang (State Theatre Vice Chairman) of RBC Wealth Management and Jacqueline Hancock-Pena (State Theatre Trustee) of Investors Bank.
About the Gala Artist
Beach Boys co-founder, Brian Wilson, is one of popular music's most deeply revered figures and the main creative force behind some of the most cherished recordings in rock history. His classic songs include "Surfer Girl," "In My Room," "I Get Around," "Don't Worry Baby," "Help Me Rhonda," "God Only Knows," "Sloop John B," "Wouldn't It Be Nice," "California Girls," and "Good Vibrations"...just to name a handful of the more than two dozen Top 40 hits Brian co-wrote, arranged, produced, and performed with his family band, The Beach Boys.
State Theatre, a premier nonprofit venue for the performing arts and entertainment. The theater exists to enrich people's lives, contribute to a vital urban environment, and build future audiences by presenting the finest performing artists and entertainers and fostering lifetime appreciation for the performing arts through education. The State Theatre's programs are made possible, in part, by funding from the New Jersey State Council on the Arts/Department of State, a Partner Agency of the National Endowment for the Arts, and contributions from numerous corporations, foundations, and individuals. The Heldrich is the official hotel of the State Theatre. Magic 98.3 is the official radio station of the State Theatre. The Star-Ledger is the official newspaper of the State Theatre. United is the official airline of the State Theatre.
STATE THEATRE
15 Livingston Ave
New Brunswick, NJ 08901
Ticket Office - 732-246-SHOW (7469)
Online - http://www.StateTheatreNJ.org
PHOTOS AND INTERVIEWS FURNISHED UPON REQUEST
Please contact Kelly Blithe at
732-247-7200, ext. 542 or by email at kblithe(at)StateTheatreNJ(Dot)org.
Up-to-the-minute information on events and State Theatre news,
online at http://www.StateTheatreNJ.org.
# # #