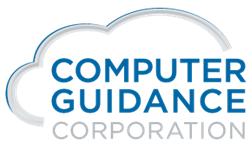 "It is critical to the success of our organization to be able to have full visibility into our field operations." Linda Fuller, IT Implementation Manager at James Hamilton Construction Co
Scottsdale, AZ (PRWEB) May 13, 2015
Computer Guidance Corporation, the leading developer of ERP software solutions for the construction industry, today announced James Hamilton Construction Co. has turned to Computer Guidance to streamline and automate its field payroll processing and field operations reporting needs.
The New Mexico-based contractor specializing in heavy highway and industrial construction has recently implemented Mobile eCMS for the collection, processing and reporting of its field productivity and payroll and has seen significant gains in efficiencies across the organization.
The roll-out of Mobile eCMS has allowed James Hamilton Construction Company to measure and manage field labor performance and productivity by tracking time and attendance, collecting individual and crew labor productivity and reporting on overall field performance while automating all associated business processes.
"It is critical to the success of our organization to be able to have full visibility into our field operations. We need to know on a daily basis what takes place at each job, how each crew is performing and what labor costs we are facing," stated Linda Fuller, IT Implementation Manager at James Hamilton Construction Co. "We have begun the roll-out of Mobile eCMS to a large group of field employees and due to favorable results we are adding additional users to the solution. Mobile eCMS has demonstrated its ability to facilitate the processing of remote payroll and begin to help our organization analyze key performance metrics for better outcomes. We have also started utilizing mobile to capture equipment utilization and field production reporting. With continued functionality and performance enhancements, we look forward to expanding our roll out in the near future."
"The explosion of affordable mobile technologies means that contractors have access to the tools to better manage every aspect of their projects," said Michael Bihlmeier, President, Computer Guidance Corporation. "Our mobile solutions provide easy access to financial and organizational tools so our clients can leverage their business data for improved communication and decision-making."
About Computer Guidance Corporation
Computer Guidance is the software development expert for construction enterprise resource planning solutions. In business since 1981, Computer Guidance has provided its customers with construction financial and project management applications supported by industry-leading business intelligence and analytics applications and advanced productivity tools. Computer Guidance is a premier Business Partner of IBM Corporation, providing a solid technology foundation for both its cloud-based, hosted and on-premise solutions. Hundreds of commercial contractors have implemented Computer Guidance ERP achieving quantifiable benefits year after year. Many Computer Guidance customers are represented among the Engineering News-Record Top 50, 400 and 600 and the On-Site Top 40. Computer Guidance's construction software expertise has led the Associated General Contractors of America to select Computer Guidance's solutions as the ERP solution of choice for its members. eCMS has also been acknowledged by the CFMA IT Survey, ranking its job cost, accounting and payroll applications as the number one software for commercial contractors. In 2013, Computer Guidance received a silver Contractor's Choice award from Roads & Bridges magazine recognizing eCMS as one of the most widely implemented ERP solutions among its readership.
Computer Guidance Corporation became a member of JDM Technology Group in January 2014. JDM Technology Group is a global software business that is exclusively in Construction with 40,000 users served, in 40 countries and in 6 continents, employing 250 staff. JDM Technology Group's core business philosophy is long-term commitment to customer service, coupled with providing the best possible solutions to customers.
For additional information, visit http://www.computerguidance.com or call 888.361.4551.
###
eCMS is a registered trademark of Computer Guidance Corporation, member of the JDM Technology Group.