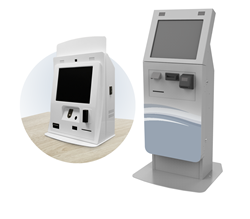 ...we've just changed [the industry] with these two new kiosks designed specifically for micro markets!
Cerritos, California (PRWEB) May 14, 2015
Olea Kiosks Inc., a worldwide market leader in kiosk design and manufacturing, has announced the launch of two new kiosk enclosures that have been engineered for the needs of Micro Market developers and deployers. The first of Olea's new products is a small footprint freestanding kiosk called the California. Even smaller than the California, the second new kiosk, called the Carolina, is an ultra-compact machine.
To meet the demands of the fast-growing micro market industry, Olea Kiosks has developed these two kiosks to specifically cater to the unique needs of micro markets. Both kiosks can be serviced from the front side, which makes them the perfect machine for against-wall applications. These kiosks come outfitted with large 19" touchscreen monitors as well as barcode scanners that can scan products, loyalty cards, and cell phones. In addition, both kiosks accept cash, credit cards, Apple Pay, or payment through biometrics, and both can be shipped with either PCI compliant or EMV compliant devices. To round out the full-featured units, they both can be accessed via landline, Wi-Fi or Cellular connectivity, providing easy access and management for the kiosk operator.
Micro markets, which are unmanned retail shops that essentially bridge the gap between vending machines and small cafes, have seen incredible growth in the past few years. Industry insiders have estimated the current annual growth of micro markets to be as high as 99.2%.
Frank Olea, CEO of Olea Kiosks Inc., recognized that there was a dearth of kiosks that are built to meet the unique demands of the micro market audience. "Kiosks in the micro market space tend to be repurposed designs that are not fit for this environment," says Olea. In addition, Olea notes that many kiosks used in the space are proprietary designs that are not available to other developers. Olea further proclaims that "we've just changed all of that with these two new kiosks designed specifically for micro markets."
Both Kiosks are ADA compliant and have modular accessories, allowing Olea's customers to order the kiosks with only the hardware that they need for their application. The kiosks are available with fully customizable color and graphic options to allow Olea's customers to integrate their brand design into the kiosks' aesthetics. These cutting edge units are offered by Olea with no minimum purchase quantity, and can be delivered with a lead time as short as three weeks from date of order. While the kiosks are built to work with any software platform, SDKs are available to allow for extensive customization to the software on the systems.
For over 40 years, Olea Kiosks has been a worldwide leader in the design, engineering, and manufacture of cutting edge kiosks. Olea's commitment to "Better Kiosks through Intelligent Design" has once again resulted in a new kiosk product that shows that there is always an Intelligent way to make Better Kiosks. For more information about Olea Kiosks extensive line of custom and in-stock kiosks, visit http://www.olea.com, or contact Olea Kiosks directly at 800.927.8063 or info(at)olea(dot)com.