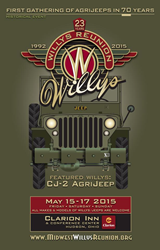 AgriJeeps keep growing in popularity and the price of restored versions seems to keep going up.
Columbiana, OH (PRWEB) May 12, 2015
Leading provider of aftermarket Jeep parts and accessories, 4WD, is among sponsors at the 23rd annual Spring Midwest Willys Jeep Reunion May 15-17 in Hudson, Ohio. 4WD is providing parts and accessories as giveaways in addition to being a vendor at the annual gathering of Willys Jeep enthusiasts. The featured vehicle for this year's Spring reunion is the CJ-2 AgriJeep and four of them are confirmed to appear at the event.
The weekend will feature presentations, Willys folklore, parts vendors and Willys and Jeep vehicles spanning all generations on display. The special guest speaker at the Saturday night banquet is Bill Norris, editor and partner of Norris-Banonis Group publishers of the Holy Toledo! Antique Jeep wall calendars and The Dispatcher Willys and Jeep newsletter.
The Reunion & Swap Meet will be at the Clarion Inn and Conference Center located at 6625 Dean Memorial Parkway in Hudson, Ohio. 4WD will join vendors including Daystar, MD Juan Enterprises and OMIX-Ada, with Willys parts and products for jeep lovers. Attendees will be treated to door prize drawings and goody bags along with indoor and outdoor activities.
Following World War II, Willys was concerned about all of the surplus army Jeeps flooding the automotive market. "To distinguish the new products from the military Jeeps, Willys reengineered them to be more farm and industry-friendly," says Norris. "The civilian versions had stronger transmissions and different gear ratios along with power take offs, which made them much more useful."
AgriJeeps were used for different tasks including discing fields, hauling hay and feed and hole digging. "They keep growing in popularity and the price of restored versions seems to keep going up," says Norris.
About Midwest Willys Reunion: Willys holds annual Spring, Summer and Fall Jeep Reunions in different locations throughout the Midwest. These events focus on featured vehicles like the CJ3A and CJ3B, various model Willys Jeeps and their unique technical capabilities. Regarded as iconic World War II vehicles, Willys are celebrated as highly adaptable four-wheel drive Jeeps designed for general purpose use.
About 4Wheel Drive Hardware: 4Wheel Drive Hardware is the leading industry provider of Jeep parts and accessories, with a passion for serving the needs of the off-road industry and community. Discover the latest Jeep products like Mickey Thompson MTZ tires, wheels and Pro Comp suspension components, and connect with other Jeep owners worldwide. Visit them online at 4wd.com or call the toll-free order number 800-555-3353.