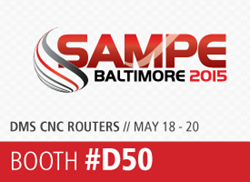 (PRWEB) May 12, 2015
Diversified Machine Systems (DMS), an Original Equipment Manufacturer (OEM) of 3 Axis CNC & 5 Axis CNC Routers and Large Format Machining Centers, will be joining around 250 fellow exhibitors at the Baltimore Convention Center May 18th-21st for the SAMPE show and conferences.
The SAMPE show and conference is designed to provide information and education, along with professional fellowship and networking opportunities for companies in the advanced materials and processing industries.
This international professional member society was started by 9 Southern California aerospace professionals who were concerned with limited materials and the need to economize based upon these limitations. The purpose of this network was created in order to provide a level of information exchange and to avoid the duplication of effort between companies who were working toward similar goals and achievements.
SAMPE Baltimore will be providing a diverse Technical Conference Program where Technical Papers, Workshops, Lectures, Tutorials, and Panels will be available, as well as leading experts, researchers, and innovators to provide valuable and insightful information.
The four conference tracks include:
•Materials Technology
•Design, Analysis and Modelling
•New and Traditional Applications
•Manufacturing, Processing, and Technology
Diversified Machine Systems is excited to get the opportunity to exhibit at SAMPE Baltimore 2015 and share with other companies and networks their achievements and involvement towards the advancement of material and process engineering.
Learn more about Diversified Machine Systems at http://www.DMSCNCRouters.com.
About Diversified Machine Systems
Diversified Machine Systems (DMS) is a leading designer and manufacturer of 3 Axis CNC Routers, 5 Axis CNC Machine Centers, and Large Format Machine Centers headquartered in Colorado Springs, CO. With more than 30 years of innovation and industry experience as an Original Equipment Manufacturer (OEM), DMS' line of CNC routers and machining centers are routinely used on materials such as wood, composites, aluminum, plastics and foams. Renowned for quality and precision, DMS advanced machining centers are engineered to increase efficiency and productivity, while maintaining the quality and precision leading manufacturers have come to expect.
DMS was named a 2014 Colorado Company to Watch, a 2015 Made in Colorado Award Winner, ranked #101 of the 2014 Top 250 Private Companies in Colorado, chosen as a 2015 ACG Denver Growth Awards Nominee, and awarded the 2013 Regional Business Alliance Excellence in Manufacturing Award.
Be sure to connect with us socially for the most current news:
Twitter.com/DMSCNCRouters
YouTube.com/DMSCNCRouters
Instagram.com/DMSCNCRouters
Facebook.com/DMSCNCRoutersandMachineCenters
Plus.Google.com/+DMSCNCRoutersandMachineCenters