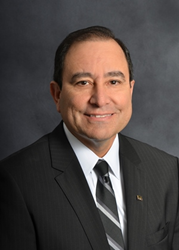 Tom is an established and well-respected leader in our industry. He knows what it takes to be successful with clients and projects and understands the critical role infrastructure plays in our country's mobility and economic competitiveness
Houston (PRWEB) May 12, 2015
Tom Ellis, PE, has been named Central Division president of HNTB Corporation. Ellis brings more than 30 years of experience in both the public and private sectors, including 17 years with the Texas Department of Transportation and leadership of three HNTB offices. Most recently, he led HNTB's Houston office, where he is based, and helped double the size of HNTB's presence in that market, as well as overseeing some of the area's most significant projects, including the U.S. 290 program.
As Central Division president, Ellis will be responsible for leading the operations of the eleven-state division, including 14 offices and more than 680 employees, and the largest state in the division, Texas. He will oversee strategic plans and foster relationships with clients.
Rob Slimp, PE, HNTB CEO commented on Ellis' new role, "Tom is an established and well-respected leader in our industry. He knows what it takes to be successful with clients and projects and understands the critical role infrastructure plays in our country's mobility and economic competitiveness."
Ellis assumes the division presidency previously held by Tom O'Grady, PE who is now HNTB corporate president.
Ellis joined HNTB in 2000 as office leader for the Austin and San Antonio offices. He has served in several roles of increasing responsibility. Prior to joining HNTB, Ellis worked at with Texas Department of Transportation and eventually rose to the position of district engineer - Paris District. He earned a bachelor's degree in civil engineering from Texas A&M University and his professional affiliations include the Houston Council of Engineering Companies and he is on the Board of the Transportation Advocacy Group.
About HNTB
HNTB Corporation is an employee-owned infrastructure solutions firm serving public and private owners and construction contractors. With nearly a century of service, HNTB understands the life cycle of infrastructure and addresses clients' most complex technical, financial and operational challenges. Professionals nationwide deliver a full range of infrastructure-related services, including award-winning planning, design, program delivery and construction management. For more information, visit http://www.hntb.com.