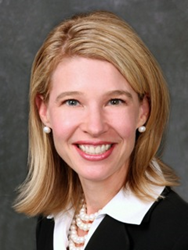 "Karin has always demonstrated extraordinary leadership at our firm. We're sure that these same qualities will quickly make her an invaluable asset for the ACLM."
Dallas, Texas (PRWEB) May 12, 2015
Kane Russell Coleman and Logan PC (KRCL) is pleased to announce that Karin Zaner has been named the Chair of the American College of Legal Medicine (ACLM) Membership and Credentials Committee. In this position, Karin will collaborate with other committee members to grow membership in the ACLM, process applications and develop a policy for granting membership to organizations.
Karin, a director in the firm's Dallas office, practices in the litigation section. She is a seasoned trial lawyer who has litigated before both state and federal trial courts, as well as before appellate courts and administrative tribunals. Karin has an extensive health law practice, regularly advising her clients on a wide variety of health law matters such as state and federal immunity laws, state privilege issues, the enforceability of physician recruitment agreements, compliance with HIPAA, and other state and federal healthcare regulations that apply to physicians and other health care providers.
The American College of Legal Medicine is a nonprofit organization dedicated to the continued professional advancement of its members, as well as non-member physicians, and other interested professionals, through education, research, publications, and interdisciplinary and collaborative exchanges of information. In addition, ACLM advances the administration of justice, influences health policy, improves health care and facilitates peer group interaction.
"We are very proud of Karin," said Mike Logan, founding director of KRCL. "She has always demonstrated extraordinary leadership at our firm. We're sure that these same qualities will quickly make her an invaluable asset for the ACLM."
Kane Russell Coleman & Logan PC is a full service law firm with offices in Dallas and Houston. Formed in 1992 with five lawyers, today KRCL has more than 80 attorneys. The Firm provides professional services for clients ranging from Fortune 500 companies to medium-sized public and private companies to entrepreneurs. KRCL handles transactional, litigation and bankruptcy matters in Texas and throughout the country.
SOURCE: Kane Russell Coleman & Logan, P.C.