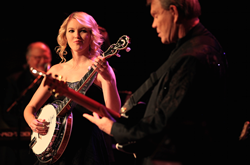 Skyline invites the press for a VIP press reception and welcomes press attendees to stay through the film and to hear Ashley speak and perform.
Seattle, Washington (PRWEB) May 11, 2015
Ashley enjoys a successful music career of her own. She's shown in this Rascal Flatts video "Banjo" — as an accomplished banjo player — and also plays guitar and sings. Campbell is based in Nashville, Tennessee.
https://www.youtube.com/watch?v=i9RRBGFO1nI
In April 2013 Ashley testified in Congress with a plea to ask lawmakers to work together to end Alzheimer's and she currently travels around the country to raise Alzheimer's awareness.
Skyline invites the press for a VIP press reception and welcomes press attendees to stay through the film and to hear Ashley speak and perform.
DATE: May 14
TIME: 5:15pm – 6:00
LOCATION: Skyline, 925 9th Avenue, Seattle WA 98104
RSVP: Press are asked to RSVP for the reception by Wednesday, May 13 at 2pm by calling agency coordinator, Cynthia Cruver at 206-227-3390.
I'll Be Me is a powerful portrait of the life and career of great American music icon Glen Campbell. It opens to the viewer the world of the singular talent who created hits like Rhinestone Cowboy, Wichita Lineman and Gentle on My Mind.
In 2011, when Campbell was diagnosed with Alzheimer's disease, he joined forces with his family to fight the biggest battle of his life. Glen and his wife, Kim, made history by going public with the diagnosis – the first time a major American celebrity would share this experience with the world.
The Campbell family then embarked on a short "Goodbye Tour," but the three-week engagement turned into an emotional and triumphant 151-show nationwide tour de force. This epic human drama about the undying bond between Glen and Kim, and their unwavering caring for each other, chronicles a story of love, resilience and the power of song. GLEN CAMPBELL…I'LL BE ME is the true tale of how America's greatest country star would not give up his music or his family, against all odds.
Skyline's Sales and Marketing Director Angela Johnston said "In my role at Skyline, I have a special opportunity to spend time with families every day who are struggling to provide the best options for their loved one. One of the most rewarding parts of my job is being able to bring some comfort to them and seeing the relief that comes over them just by helping them to know they are not alone. For me, that is the most significant part of the opportunity to share Glen Campbell's movie, "I'll Be Me"."
"Raising awareness, about the disease and the struggles it causes for everyone affected is paramount in order to build a culture of support for the scores of caregivers, families and friends struggling to provide the best possible care for loved ones with Alzheimer's."
For further information about Skyline, please see websites at http://www.SkylineSeattle.org.
Contact: Cynthia Cruver, 3rdThirdMarketing, cynthiac@3rdthirdmarketing.com, (206) 227-3390 mobile
ABOUT SKYLINE
Skyline is a 62+ Continuing Care Retirement Community that provides independent living, assisted living, medical rehabilitation services, skilled nursing and memory support all in a beautiful and upscale environment.