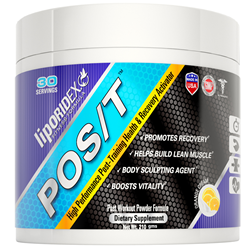 After doing years of research on several different anti-aging antioxidants, I am thrilled that we were able to formulate Liporidex POS/T to include the super agent astaxanthin
San Diego, CA (PRWEB) May 12, 2015
This week, the popular health and wellness brand, Liporidex, announced the arrival of their brand new formula, Liporidex POS/T, featuring the breakthrough anti-aging antioxidant astaxanthin. The formula is the first of its kind, and is already making headlines across the country due to its unique effectiveness on the body.
Liporidex is a line of all-natural health, wellness and fitness formulas that specialize in improving the body from the inside out. Their newest product, Liporidex POS/T, has been formulated with the breakthrough antioxidant astaxanthin, which is believed to have greater health implications than other prominent antioxidants such as vitamins E and C, as astaxanthin is over fifty times more powerful than vitamin C and E at reducing oxidative stress. Among the many other astaxanthin health benefits, it has a high bioavailability so it is able to exert its effects in all parts of the body - reducing inflammation and supporting joint, eye, and cardiovascular health. More importantly, it also protects the body's largest organ, your skin.
Research shows that astaxanthin can help with skin moisture levels, elasticity, wrinkles, freckles, and helps prevent sunburn by acting as an internal sunscreen. On top of the magnitude of anti-aging benefits, astaxanthin can also help reduce soreness and inflammation caused from strenuous activities, helping you recover faster and stronger.
"After doing years of research on several different anti-aging antioxidants, I am thrilled that we were able to formulate Liporidex POS/T to include the super agent astaxanthin," said Dr. Emeka Okwuje, Liporidex founder and CEO. "Liporidex POS/T is an innovative addition to our product line, and one that we feel will be received well by the consumer because of it's ability to revitalize the body from the inside out," said Okwuje.
Most post workout recovery formulas simply use branched-chain amino acids, or BCAAs, to minimize the effects of muscle catabolism after strenuous exercise. POS/T goes beyond that by using the proven anti-inflammatory and antioxidant astaxanthin, in conjunction with BCAAs, to create a powerful synergy for even greater results.
Individuals that spend a significant amount of time in the sun for recreation, as well as those that are interested in maintaining a youthful appearance, are already flocking to this novel, health-boosting recovery post workout formula in droves. To purchase the breakthrough formula, Liporidex POS/T, visit myliporidex.com or Amazon.com.
About Nuretix Research Labs, LLC
Headquartered in San Diego, California, Nuretix Research Labs, LLC is a privately owned and operated company dedicated to the research, development and production of high quality, safe and revolutionizing nutritional supplements and metabolism boosters. Dr. Okwuje launched the company in 2007, bringing to life the careful collaboration of medical and fitness professionals in the form of Liporidex Fitness Formulas. Each of their diverse supplements is manufactured to meet or exceed all applicable industry standards. Liporidex supplements are 100% natural, consist of ingredients that have been put through the rigors of clinical testing for over 35 years, and are ranked among the best supplements that work on the market. Visit myliporidex.com for more information or connect with the company via Facebook and Instagram.