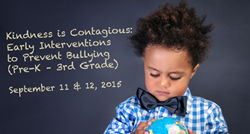 Kansas City, MO (PRWEB) May 13, 2015
The International Bullying Prevention Association (IBPA) is working to bring together school and community agency staff members to attend a conference focused on early interventions to prevent bullying, scheduled for September 11 & 12th, 2015. Successful bullying prevention can't happen alone! This event offers solutions and support to teachers, parents, administrators, community staff, para professionals and early childhood staff working to reduce bullying among the young children they serve.
Preschool teachers, school counselors, parents, administrators, teachers in K – 3rd grade classrooms and those working in the community will come together to focus on early prevention strategies. This event brings together national experts on topics which include: online safety, interview techniques, working with special populations, helping parents advocate for their children, engaging the community and more. All sessions will take place at the Kauffman Foundation Conference Center. The theme is: Kindness is Contagious
With presentations available on topics to help implement evidence-based prevention programs, it's a great time to consider how you can help raise awareness about bullying and take action to stop it at a much younger age. Tell us what you are going to do by engaging on Twitter: ibpaworld and visiting IBPA's website to register for the conference. Registration fee is $125.
Organizations that are making bullying prevention a priority and supported this conference include United Inner City Services in Kansas City and Jackson County COMBAT.
The mission of the International Bullying Prevention Association is advancing bullying prevention best practices. http://www.ibpaworld.org IBPA, PO Box 99217, Troy, MI 48099. 501 (C)3 non-profit