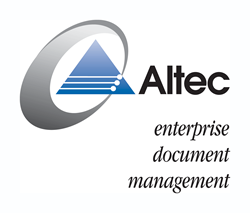 Altec's integrated document management solution doc-linkTM interfaces with Microsoft Dynamics AX, GP, NAV and SL to control existing workflow and effectively eliminate the need to file documents.
Laguna Hills, CA (PRWEB) May 12, 2015
Altec Products, Inc., a leader in enterprise document management and workflow solutions, will be a participating sponsor of Vision 2015, The TM Group's 15th Annual Microsoft Dynamics Customer Conference and Expo. The event will take place from 8:00am – 4:30pm on May 12th at the Suburban Collection Showplace in Novi, MI.
The TM Group is a Microsoft Dynamics Gold Certified Partner providing CRM and ERP business solutions including Microsoft Dynamics GP, NAV, SL, CRM and NetSuite. Vision 2015 provides excellent opportunities for attendees to interact with peers and learn about the latest technology from Microsoft as well as its ecosystem of partners and solution developers. Vision 2015 offers five tracks and over 20 diverse breakout sessions.
As a sponsor, Altec will join three other integrated document management providers for a breakout session titled "Document Management and Workflow." In the session, attendees will have the chance to explore the four solutions and their integration to Microsoft Dynamics products to see the many possibilities and benefits of going paperless.
Altec's integrated document management solution doc-linkTM interfaces with Microsoft Dynamics AX, GP, NAV and SL to control existing workflow and effectively eliminate the need to file documents. A Certified for Microsoft Dynamics (CfMD) product, it has met Microsoft Corporation's highest standards for partner-developed software solutions.
Altec Sales Director Laura Lechien is honored to attend and present at Vision 2015. She looks forward to the event, stating, "I can't wait to share with the Microsoft Dynamics community the unique functionality doc-link offers. Altec admires how The TM Group has created a robust, informative day all about giving attendees the tools and tips necessary to reap the most out of their ERP solutions, and I plan to deliver just that with information with doc-link!"
For more information about Vision 2015, please visit http://www.tmgroupinc.com/wp-content/uploads/VISION2015ConferenceGuideFinal.pdf.
About Altec
Altec is a leading provider of Integrated Document Management (IDM) solutions to mid-market companies. For more than 30 years, Altec has provided a wide range of accounting-centric paper to paperless solutions including its flagship product, doc-link™, which enables companies to capture, archive, workflow and route structured and unstructured documents to customers, employees and vendors. Altec's comprehensive solutions include IDM, output management, MICR check disbursement and paper documents that serve more than 13,000 customers worldwide. Altec enjoys strong, collaborative partnerships with ERP solution providers like Microsoft Dynamics to provide the most comprehensive, integrated enterprise document management solution. Altec delivers its IDM solutions through a global network of authorized partners in more than 60 countries throughout the Americas, EMEA and Asia Pacific. For more information, visit Altec at the company website at http://www.altec-inc.com. Follow them on Twitter.com/doclinkbyAltec or call April Blankenship at 1-800-997- 9921.
About The TM Group
The TM Group is a trusted advisor to hundreds of national and local clients helping them achieve efficiency, increase productivity and provide clarity to their business results with strategic business solutions. As a Gold Certified Managed Partner for Microsoft and NetSuite Solution Provider, The TM Group leverages its more than 31 years of award-winning experience to help clients with planning, implementation, training and support of enterprise resource planning (ERP), customer relationship management (CRM) and business intelligence solutions including Microsoft Dynamics GP, Microsoft Dynamics SL, Microsoft Dynamics NAV, Microsoft Dynamics CRM, NetSuite, Microsoft SharePoint, WennSoft, ReQlogic and Solver BI360. The TM Group team of more than 45 professionals provides a comprehensive range of business technology consulting services to businesses in a wide variety of industries. The TM Group has offices in Farmington Hills and Grand Rapids, Michigan and serves hundreds of clients throughout North America. For more information, contact kenj(at)tmgroupinc(dot)com or visit http://www.tmgroupinc.com.
# # #