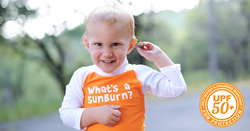 UV Skinz is including a UPF 50+ Baby Sun Shirt free with every order placed during the month of May in honor of Skin Cancer Awareness Month.
Sonora, CA (PRWEB) May 14, 2015
With the hopes of raising awareness about the seriousness of skin cancer, sun protective clothing company UV Skinz is including a complimentary Baby Sun Shirt with every order placed throughout the month of May during their Annual Save a Baby's Skin Campaign.
"We encourage our customers to 'pay-it-forward' and give their new baby sun shirt to a little one in their life, whether it be a friend, neighbor, relative or even their own child. We want to get as many babies covered as possible, and with each donation we hope to continue raising awareness and encouraging families to instill good sun safety practices at a young age." says UV Skinz Founder and CEO, Rhonda Sparks. The company began after Rhonda lost her 32-year-old husband to melanoma, the deadliest form of skin cancer. The devastating loss of her husband has since fueled Rhonda's passion to prevent other families from experiencing the same fate her family has, and encourages the UV Skinz team daily to continue their efforts to raise melanoma awareness.
"Each 'My First Skinz' Baby Shirt is certified UPF 50+ so it protects against 98% of UV radiation, and reads 'What's a Sunburn?' as we feel strongly no child should ever know the feeling of a sunburn. A single severe sunburn during the first 15 years of life doubles that child's risk for developing melanoma later on, so it is vital children are adequately protected from the sun at all times." In addition to including this limited edition baby sun shirt with each order placed during May, UV Skinz will donate these sun shirts to select maternity wards and pediatricians offices across the Unites States throughout the month. To receive a special edition baby sun shirt, simply place an order on the company's website during the month of May, and a 'My First Skinz' sun shirt (size 12/24 month) will be automatically included with your order, no coupon code necessary!
About UV Skinz
UV Skinz offers a complete line of infant, children, and adult sun-protective clothing and accessories. In addition to providing high quality sun protective apparel, UV Skinz, Inc. donates to hundreds of skin cancer awareness organizations and education events annually. For more information about the company's mission, sun safety advice, or to purchase products please visit http://www.uvskinz.com.