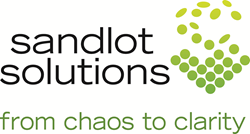 DALLAS, TX (PRWEB) May 12, 2015
Sandlot Solutions, a leading health record interoperability and analytics provider for communities and health systems, today signaled its support for the Institute of Medicine's (IOM) proposed streamlined set of 15 standardized measures and recommendations for their application. The new standards, outlined in Vital Signs: Core Metrics for Health and Health Care Progress, represent an important step in efforts to clarify, simplify and better benchmark how the United States is improving its health as a nation – and identify the top priorities for improved performance within the healthcare system.
Sandlot Solutions works with healthcare organizations and communities, helping prioritize and simplify efforts around achieving key measures to allow greater focus on the areas that matter most. Sandlot's suite of technology solutions works to solve these challenges, streamlining clinical reporting and providing immediate visibility to quality analytics, outcomes and population trends. The cost-effective, software-as-a-service platform from Sandlot supports the dual goals of meeting the clinical needs of physicians as well as the analysis and reporting requirements of hospital administrators. With a big data analytics technology platform as the foundation, Sandlot's infrastructure allows clients to examine and explore vast volumes of data in near real time, ultimately reaching the new levels of analytic insights needed to meet key measures and more effectively work towards the Triple Aim.
Sandlot's entire technology platform ultimately helps healthcare organizations achieve each of the core measures identified by the IOM, with special emphasis on improving organizational performance and health outcomes:

Preventive services
Care access
Patient safety
Evidence-based care
Sandlot Solutions' robust reporting capabilities are delivered in a dynamic and interactive format, allowing users to drill down and filter results based on preset criteria. Sandlot users benefit from reports including Five-Star, ACO Dashboard, HEDIS and PQRS, as well as customer-specific measure sets and rules. And, with proprietary digital envelope technology, physicians receive notifications at the point of care with the most relevant and timely information needed to proactively address gaps in care.
To learn more about Sandlot Solutions and how it can help healthcare organizations work towards achieving core measures through interoperability and population health management, visit http://www.sandlotsolutions.com.
About Sandlot Solutions
Sandlot Solutions, founded in 2006, is a leading provider of clinical interoperability and community health management solutions focused on: the exchange of clinical and claims data across the care community, population data analytics and enhanced care coordination. Sandlot provides the tools and technology that enable healthcare organizations to improve the quality of care, understand and manage risk, reduce costs and transition to new business models. The software-as-a-service, cloud model with configurable technology streamlines data sharing and provides physicians with actionable patient information and analytics at the point of care. Sandlot's technology works within physicians' existing workflows using a proprietary, patent-pending digital envelope enabling physicians to proactively address gaps in care at the point of care. For more information, visit http://www.sandlotsolutions.com.