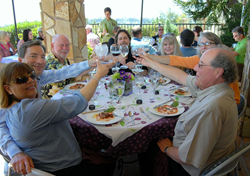 It was an event we will never forget.
San Diego, CA (PRWEB) May 13, 2015
Lajollacooks4u welcomed Domino Sugar and C&H Sugar, along with their grand prize-winning guests to an amazing lunch experience, featuring celebrity chef, Nick Stellino.
On Friday, May 1, 2015, ten grand prizewinners, their guests, and the executive team of Domino Foods were welcomed into the Lajollacooks4u's kitchen to enjoy a unique gourmet cooking and dining experience. Celebrity chef, Nick Stellino, joined Chef Jodi Abel in Lajollacooks4u's kitchen to co-host the VIP culinary event.
The guests arrived mid-morning, traveling by luxury bus up the scenic Soledad Mountain Road, witnessing the breath-taking views of coastal San Diego. Upon arrival, the guests were escorted to the garden where they mingled and enjoyed mimosas – a California-style lunch must-have apéritif. Lajollacooks4u aprons were distributed and everyone participated in a
Lajollacooks4u classic: The gourmet olive oil and salt tasting experience.
After everyone was well acquainted, Chef Nick Stellino began the cooking demonstration with a heart-warming introduction and a description of the afternoon menu. Chef Jodi followed with a background on traditional Californian Cuisine, highlighting the wonders of 'Farm-to-Table' style eating. Chef Jodi then demonstrated how to prepare a sweet Berry Crisp with a Vanilla-Goat Cheese Mousse. The guests were divided into teams and accompanied Chef Jodi as she created a gourmet appetizer of Figs and Olives in a Balsamic Reduction with Labne Cheese, alongside a dessert crisp.
While Chef Jodi's food was in the oven, Chef Nick shared captivating stories detailing the birth of his two recipes featured on the menu and demonstrated why he is an Emmy-award winning celebrity. Chef Nick had the crowd on the edge of their seats as he detailed the magic behind his creations. In groups of four, the guests were invited to join him as he prepared a Pasta Matriciana and Peppered Tuna, Sicilian Style.
The group was then escorted to the garden patio where Chef Jodi had eloquently arranged her home into an upscale dining experience. Each table was beautifully dressed with bright floral arrangements, fine dining ware, and hand-painted tablecloths t from South Africa – each accent giving praise to the San Diegan springtime glow.
After dining on their epicurean delicacies, Chef Jodi and Chef Nick sat down to sign aprons and recipe booklets. Everyone, sweepstakes winners and their lucky guests, expressed their gratitude to the chefs and especially to Domino Foods for hosting such an unforgettable experience.
Two of the attendees, Sandra and Kayla Zehner, had traveled all of the way from Florida to share in this once-in-a-lifetime event. Zehner, a culinary student, was overjoyed with all the knowledge she accumulated and said the food was absolutely amazing. "As a culinary student, I could not have ended up in a more perfect setting," Zehner stated. Nancy Barbee, Marketing Manager for Domino Foods, said the event surpassed her expectations. "What a wonderful experience for my guests and for myself; it was an event we will never forget," Barbee said.
Domino Foods, Inc. sells the nation's best sugar brands. Domino Foods, Inc. is part of ASR Group, the world's largest refiner of cane sugar. The C&H® Sugar and Domino® Sugar brands are marketed by Domino Foods, Inc. which is the largest marketer of refined sugar in the United States and sells the nation's most well-known brands. Domino Foods, Inc. is also a leading industrial sugar supplier for food manufacturers and offers a complete line of sweetener products for the foodservice industry. For more information, see Domino Sugar's website at http://www.dominosugar.com.
Lajollacooks4u, founded in 2008, provides a unique and intimate activity for couples, corporate team building, and any foodie looking for a unique cooking and culinary experience in an ideal setting overlooking the Pacific Ocean. Based in La Jolla, a suburb of San Diego, CA, Lajollacooks4u has enjoyed record growth since its inception and is ranked as a top attraction in La Jolla on the world's largest travel review site, Trip Advisor. As always, Lajollacooks4u customizes its private cooking classes to meet the needs and interests of each group. For more information or to make reservations, contact Jodi Abel at jodi(AT)lajollacooks4u.com or by phone at 1-858-752-4980. Visit Lajollacooks4u's website at http://www.lajollacooks4u.com