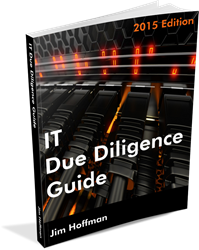 The IT Due Diligence Guide helps IT experts understand M&A and investors understand IT.
New York, NY (PRWEB) May 12, 2015
The IT Due Diligence Guide, written by experienced technology and operations executive Jim Hoffman, helps IT experts understand M&A and investors understand IT.
The 2015 version of the book has been updated and significantly expanded to address the very latest IT issues that are relevant to today's mergers and acquisitions. For example, there is a new chapter dedicated to cyber security.
New data collection spreadsheet templates speed the process of collecting information from the target company. There is also an updated report template that makes the sometimes intimidating process of compiling a due diligence report much easier.
The IT Due Diligence Guide shows IT experts how to use their technical knowledge to help their company save money, uncover hidden opportunities and make an informed decision when considering a merger or acquisition. It can help technology professionals make a true business impact with their IT due diligence efforts.
The book explores the questions to ask during technology due diligence, and how to interpret the responses, from a business standpoint.
The IT Due Diligence Guide also explains to investors how to talk to the IT staff at the target company and draw out the information needed to uncover problems that can cost them money unless they're addressed by the seller before the deal closes.
The book is intentionally written to be useful and understandable even for non-IT experts – it's not filled with technical jargon. In addition to showing the right questions to ask, it explains what the answers might mean to the outcome of a deal.
"The IT Due Diligence Guide isn't a textbook or an academic study of the due diligence process. It's based on real world issues and my real world experience," said Hoffman. "My goal in writing it was to share the knowledge and insights I've gained in almost 20 years of helping investors and buyers evaluate their potential acquisitions."
The 2015 Edition includes an IT due diligence checklist that has been expanded to 125 topics. The checklist has been downloaded more than 17,000 times by IT and finance professionals, and is available for free at:
http://www.itduediligenceguide.com/it-due-diligence-checklist/
A sample chapter from the book can be downloaded at:
http://www.itduediligenceguide.com/sample-content/
The book can be purchased here:
http://www.itduediligenceguide.com/buy-the-it-due-diligence-guide/
About the Author
Jim Hoffman wrote the IT Due Diligence Guide after years of technology and operations experience with companies very active in M&A. He's worked on IT due diligence projects ranging from a $50,000 investment to a $375M company sale. The tools, information and practices outlined in the book are exactly what he uses himself when he runs due diligence projects.